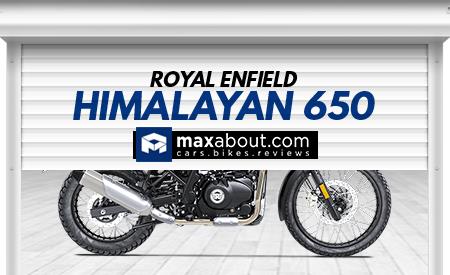 POPULARITY
This week: 1402 views
All time: 76432 views
Expected Price
₹ 3,00,000
* Delhi. May vary.
Expected
Latest Royal Enfield Himalayan News
Recently Added News
Questions and Answers
Be the first one to ask a question about Royal Enfield Himalayan 650
Ask a Question
User Reviews for Royal Enfield Himalayan
Reviews Submitted by Maxabout Community
Worst Bike I Ever Had
ameen - | 7 months ago
since the day i have this bike ....21 pieces has been changed ..and work is still in progress I belive only chassis will remain at last
Best Features: The bike has excellent pick up more than any other RE
Pros: Pick and comfort of the bike is best among RE family
Cons: Bike is faulty ...please make it confirm from any other RE himalyan owner...atleast re has changed more than 21 parts of my bike and still clutch is very hard
Mileage
Looks
Value For Money
Customer Service
A Beast.!
Gautaman Logan | 3 years ago
I got her four days back and the bike is unique from all other RE, the mileage is pretty sad, around 30 to 35 but i think its still a decent one for a 411 engine. About the performance, its so comfortable riding and the handling is perfect, but Í guess high traffic cities like Bangalore, Chennai will have tough time with this beast. You could blindly go for it if you are a tourer or if you reside in hill area.
Best Features: Comfort and the new LS10 engine
Pros: The sound and the handling
Cons: Mileage can still be made better.
Mileage
Looks
Value For Money
Customer Service
Worst Buying Experience of Royal Enfield Himalayan
Rakesh Reddy | 4 years ago
Featured Review
I am M. Rakesh Reddy from Hyderabad.. I have booked Royal Enfield Himalayan on March 17th and I was the 1st to book in SVR Motors and Engineering showroom..instead of that yesterday I got an SMS saying that as per requested by you we have postponed your delivery date by 4 days..which I dint so i called them up..they started telling due to some system error you got that message..I said ok and hang up..then I got doubt.. and when up to showroom saw that they have delivered the motorcycle to some one else instead of me..now I asked them they stared telling some stories like he booked on line before it launched...which never happen...then I told them I ll take matter to higher management...and I went now after 2 hours they called me and told we have a bike available for you... Now the real problem started they have given me a defective motorcycle...in which battery icon is not going off even after engine is on...and they know that there was a problem with this bike still thy gave me the bike..now today (23/4/2016) the bike is not starting at all... Now they have torn it down in parts to search for the defect and finally solved the issue but I am not happy they way they did it the new bike is now full of scratches on the black frame of the bike where battery goes...and I don't think i can take that bike for long rides after seeing what happen with the bike and I am not even confident on the Himalayan bike any more...I even have images of the bike when they opened half engine....and took out all wiring of my bike.....
Best Features: Looks are the best
Pros: Good for off road
Cons: Poor customer service
Mileage
Looks
Value For Money
Customer Service
Submit your Review