Hyosung Bikes
Featured Hyosung Bikes
Most Popular Bikes by Hyosung
All Bikes By Hyosung
Categorized Hyosung Bikes by Status
Hyosung Bikes by Body Type
Filter Hyosung Bikes by Body Type
Latest Hyosung News
Recently Added News
About Hyosung
Know more about Hyosung
Hyosung Motors Co. Ltd is a subsidiary of Hyosung Group of Industries, South Korea. The group was founded in 1966 while motorcycle division became active in 1978. They are known for their chemical, mechanical and construction industry expertise while significant share can also be found in the IT industry.
Their first step was assembly of Suzuki sourced designs under their own branding in South Korea. The parent brand has sold this division multiple times and therefore, ownership credentials have changed once in 2007 and then in 2014. Hyosung was once an effective brand among limited number of Indian superbikes of last decade.
Comet was the most popular model listed under Hyosung international lineup. It comes in both superbike and sportbike variants and offers engines varying between 125cc and 650cc. Indian market once had a long list of products from Hyosung while they have reduced the number significantly because of declining sales and popularity.
Their partnership with DSK didn't work as expected as most promotional events from DSK are directed to the Benelli brand in India. Hyosung has showcased and even launched (internationally) a new generation of single cylinder products. Unfortunately, Indian market got some existing bikes discontinued and never got any of the new ones.
Hyosung GT650R is a full faired superbike with 647cc, water cooled engine. It is good for 72.68 BHP at 9000 rpm and 60.9 Nm at 7500 rpm. The values are not bad at all but limited reach of their dealerships never helped it get the deserving sales.
Also, design language of GT650R is decade old and still, it commands an equally huge price tag as extraordinary products like Ninja 650.It weighs 215 kg and thus, packs a lot extra weight than popular segment rivals. The same design can also be bought with GT250R.
Related Resources
You may like to view
Questions and Answers
Most Popular Answers for Hyosung
Is KTM RC 200 better than Hyosung GT250R or not?
29 December 2022 06:07
KTM RC 200 is better than HYOSUNG GT250R in terms of its performance. Although HYOSUNG GT250R has two cylinder engine but it is not as refined as the KTM RC 200. Moreover, HYOSUNG GT250R is heavier and much more expensive than KTM RC 200. Therefore, go for KTM RC 200 if you are deciding between the two.
What is the launch date of Hyosung GV300 Aquila in India?
29 December 2022 06:06
The GV300 will replace the current GV250 from the Hyosung Indian lineup. They will be quick in bringing up this motorcycle as it can be the right bridge between the Royal Enfield and Harley Davidson offerings. The one who owns a Royal Enfield and cannot afford a Harley will definitely check out this cruiser from Hyosung. The motorcycle produces 26 BHP and 23.5 Nm of torque from its 275 cc engine. It may launch in the next financial year as DSK is focusing more on Benelli as a volume generator.
Launch date for these bikes: Hyosung GD250R, Kawasaki Ninja 250SL, 2016 Honda CBR250R, and KTM RC 250?
29 December 2022 06:03
Launch date details of the followings bikes are: 1-Hyosung GD250R: The GD250R is a full faired 250cc bike producing 28 bhp and 24 NM torque. No news regarding the bike's launch is out yet. However, some sources say it could be launched this year, or early next year. 2-Kawasaki Ninja 250SL: The Ninja 250SL is expected to be priced around INR 2 lacs. However, Kawasaki hasn't said anything about its launch date. 3-Honda CBR 250R(2016): Honda has no plans to launch the 2016 CBR 250R in India. It is focusing on bigger bikes. 4-KTM RC 250: The RC250 is a great bike, and can fill in the gap between the RC200 and the RC390, however the chances of the RC250 to launch in India are very low. We don't expect the bike to come out anytime soon.
When will Hyosung launch the GD250N in Cochi?
29 December 2022 06:01
The Hyosung GD250N would be the next change in the company lineup as the same 250 cc single cylinder motor will make way into other series of bikes in order to provide a range of affordable bikes under INR 2 lakh. The only naked bike sold at the time is GT650N while the GT250N has nearly zero chances of launch due to negligible sales of bikes in it's segment. The Hyosung bikes would get a major change in the coming time.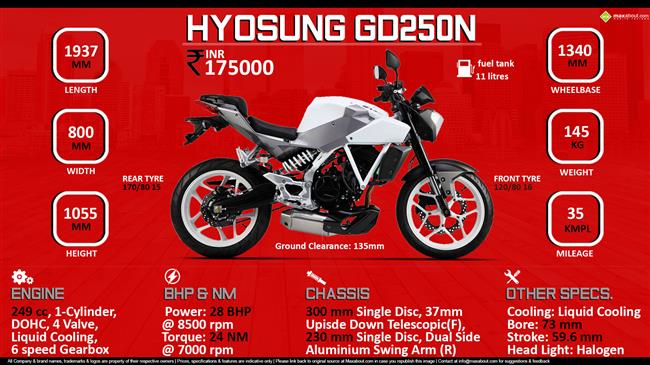 What is the maintenance cost of Hyosung Aquila GV250?
29 December 2022 06:01
The motorcycle can be counted in some rare ones around the country as nearly zero information about its maintenance and service charges is available anywhere. You can clear all your doubts by calling Hyosung at 1800 209 2324 or by writing them at 
[email protected]
. You can even clear the difference between 250 cc and 650 cc models as both mostly use the same frame and a considerable price difference whereas power increases by many folds.
Ask a Question