Mahindra Kine
Mahindra Kine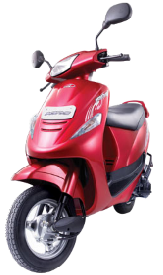 Popularity
This week: 19 views
All time: 82,107 views
Ex-Showroom Price
Rs. 33,760
* Delhi. May vary.
Also Consider
Vehicles with similar features
VEHICLE SUMMARY

Name:
Kine
Shades:
Night Black, Racy Red, Funky Green and Groovy Lavender
Kerb Weight:
82.00 kg
Type:
Scooterette

PERFORMANCE AND MILEAGE

Top Speed:
80 kmph

ENGINE SPECIFICATIONS

Displacement:
71.5 cc
Engine:
71.5cc
Maximum Power:
3.8 Bhp@ 5500 rpm
Maximum Torque:
5.0 Nm @ 4500 rpm
Gears:
Automatic
Cooling Type:
Air Cooling

DIMENSIONS & CAPACITIES

Length:
N/A
Width:
N/A
Height:
N/A
Ground Clearance:
120.00 mm
Wheelbase:
1225.00 mm
Fuel Tank:
4.00 litres
Instrument Cluster

Fuel Gauge:
Analogue
Tachometer:
None
Speedometer:
Analogue
Trip Meter:
None
Low Fuel Indicator:
Low Oil Indicator:
Low Battery Indicator:
High Oil Temp. Indicator:
Choked Air Filter Indicator:

OTHER SPECIFICATIONS

Alloys:
Tyre Size:
3.0-10-4
Tubeless Tyres:

Brakes & Suspension

Suspension (Front):
Bottom Link
Suspension (Rear):
Swing Arm
Brakes (Front):
112.2 mm Drum
Brakes (Rear):
112.2 mm Drum

COMFORT AND CONVENIENCE

Stand Alarm:
Self Start:
Passenger Footrest:
Passenger Backrest:
Step-up Seat:
Pass-light:
Mahindra Kine Review
Mahindra's Entry-level Scooterette
Wednesday, October 23, 2013
The market for scooterettes is saturated with high performing models. One of Mahindra's newest entries is the Mahindra Kine, a lightweight scooter aimed at inner-city drivers who want something fast and fuss-free.
Design and Style
In terms of design, the Mahindra Kine doesn't try to set itself apart from the competition with a wildly different or outlandish look. The bike follows a pretty standard scooter design, with a few touches that are probably intended to appeal to a female driver, such as smooth body curves and appealing flowing lines. The front nose of the bike has been sharpened to give it an edgy, streamlined look. It's a bike clearly aimed at young drivers, with stylish body graphical details. The front fairing, side panels and mask are painted in the body color, with a body-color grab rail at the rear, and grey scale rear view mirrors that provide a nice contrast. The body of the scooter weighs 82 kilograms, placing it firmly at the lighter end of the market.
Instrument Console
Mahindra Kine's instrument cluster is unsurprisingly basic but practical. In keeping with the bike's youthful design the panel has an attractive white background. Its analogue instruments are easy to read with clear indicators and dials, including fuel gauge and speedometer, plus low oil meter. The only complaint that some drivers may have is that the instruments are on the smaller side.
Engine and Gearbox
The Mahindra Kine comes equipped with a 71.5cc, air-cooled, two-stroke, single-cylinder engine. It's generates maximum power of 3.8 Bhp at 5500 and maximum torque of 5.0 Nm at 4500 rpm. Drivers have the option of kick or self-start.
Acceleration and Top Speed
The Mahindra Kine is certainly a modest vehicle, and, as an entry-level gearless scooty, it isn't going to overwhelm anyone with the power of its engine. If power is an issue, you may wish to opt for a slightly more expensive scooter; but for the needs of most drivers, the Kine's engine is suitable. The bike's acceleration is good, adequate for this type of design, and its pick-up is moderate. The bike's reported top speed is a respectable 80 kmph, a figure that seems to be borne out in testing.
Mileage
Mahindra states that the Kine's average fuel mileage is between 50 and 55 kilometres per litre, which is average for a scooter of this kind. The scooter's fuel tank is capable of storing 4 litres, a lower capacity that reflects the bike's target audience: city dwellers, rather than drivers making long cross-country journeys.
Comfort While Driving
The Mahindra Kine is designed for shorter, inner-city rides, rather than long journeys across variable terrain, but it still manages to offer a comfortable riding experience for driver and passenger. Compared to previous Mahindra models, the seat is longer and wider, and well-padded to provide a comfortable seat. The seating arrangement is solid and ergonomically sound, with an upright seat that is suitable for long journeys, and a footrest and foot pegs have been fitted for the comfort of the pillion.
Safety Features
The body color grab rail at the rear not only fits well with the bike's design but also provides an additional safety feature for someone riding pillion. The bike's multi-focal headlamps perform very well during night rides, offering a broad and penetrating beam.
Storage Space
Like many scooters at the entry-level end of the market, the Kine prioritize storage because this will be a primary concern for its target buyer. There is storage at the front of the bike, as well as generous storage space beneath the seat that is large enough to stow a helmet.
Suspension
The bike's suspension is minimal, reflecting its lightweight frame and build – it's low ground clearance, small engine and narrow body make it wholly inappropriate for off-road driving. It is fitted with bottom link suspension at the front and swing arm suspension at the rear, and these fittings do a good job of muffling the shocks from the road surface, although they would struggle with uneven tarmac.
Brakes
The Mahindra Kine is equipped with 112.2 mm drum brakes at the front and rear – a standard offering for a scooty of this kind. The brakes are balanced and respond quickly upon the driver's squeeze, giving a relatively short stopping distance. There is no advanced braking technology, but a bike of this weight does not really require it.
Ride and Handling
A very lightweight vehicle, the Kine is built for easy manoeuvring and deft handling, particularly in heavily built up areas. It's an easy vehicle to control, and it performs sharp curves competently. The only complaint a driver might have is that at times it feels too lightweight – when leaning, the driver may feel slightly unbalanced. However, for weaving in and out of traffic, it's an ideal vehicle.
Tyre Size
Mahindra Kine's wheels are three-spoke alloys, requiring a tyre of 3.0"-10.4" type, both front and rear. The 1225 mm wheelbase is narrower than some of the competition but clearly intended to give the bike manoeuvrability.
Shades
The Mahindra Kine was released in four bold shades: Night Black, Racy Red, Funky Green and Groovy Lavender.
Variants
The Kine comes in one standard variant only.
Reasons to Buy and Value for Money
Speedy, light and capable, the Kine is suitable for inner-city drivers who want a versatile and responsive vehicle with good storage space. The Kine is a highly affordable vehicle, and the sacrifices made to its hardware, such as low engine power, keep its price low.
Verdict
The Mahindra Kine is a smart, sleek scooter aimed at young drivers, particularly women, who want an effortless ride to suit a busy lifestyle. If you don't mind a bike without too many extras, it's a good choice.