LML Bikes
Featured LML Bikes
Most Popular Bikes by LML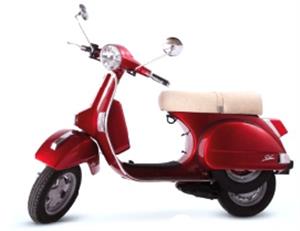 LML Star Euro 200 KS
1252 views this week
₹ 70,000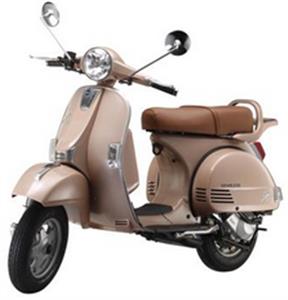 LML Star Euro 150 Drum
1825 views this week
₹ 54,000
All Bikes By LML
Categorized LML Bikes by Status
LML Freedom
1648 views this week
₹ 51,633 - ₹ 52,198
LML NV
LML Star
3700 views this week
₹ 54,000 - ₹ 70,000
LML Freedom (2009)
3113 views this week
₹ 43,000 - ₹ 47,000
LML Graptor
1138 views this week
₹ 58,500
LML Select
Latest LML News
Recently Added News
LML To Make An Electrical Return In September This Year
Tuesday, 19 April 2022 0:00 AM
About LML
Know more about LML
LML India is one of the leading scooter manufacturers in the country. With an impressive range of scooter models, LML has something for everyone. From the classic LML Star to the modern LML Nitro, LML scooters offer a great ride and great features. LML also offers a range of accessories and spare parts to customize and maintain your scooter. With over 1000 authorized LML dealers across India, you can be sure to find the perfect LML scooter for your needs. So go ahead and explore the world of LML scooters.
Related Resources
You may like to view
Questions and Answers
Most Popular Answers for LML
I want to purchase kick-start model of LML NV 2-stroke scooter?
29 December 2022 06:01
The LML NV 2-Stroke KS scooter will not be available for sale as a new vehicle. You can only get it from a used vehicle market and if you wish for a new LML, the Star Euro 150 is the best option for INR 54,000. The scooter comes with a 150 cc engine and uses automatic transmission for better ease of use. It even comes with a disc brake version for INR 58,000.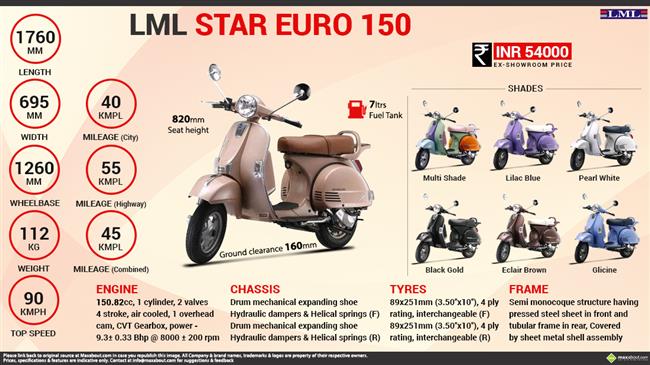 From where can I get LML NV spare parts (original)?
29 December 2022 05:57
The LML spare parts can be bought from its genuine spare parts dealers. They are listed on the company website and you can find your required dealer by entering your state and city name into it.
https://www.lmlglobal.in/LocateDealer
Even you can search for custom parts for your scooter on the other link given below.
https://www.indus-services.co.in/
Which one is the best - LML Freedom vs. TVS Star City Plus vs. Honda CD110 vs. Mahindra Centuro?
29 December 2022 05:48
The best one out of all the above comes out to be the Mahindra Centuro, which has came up with its new disc brake avatar. The bike features a decent design and competitive power values. The 106.7 cc engine on the Mahindra Centuro brings 8.5 BHP @ 7500 rpm and 8.5 NM @ 5500 rpm. The bike returns a mileage of 60+ kmpl and the price has also been kept competitively at 51,250. This makes it the most affordable bike with a disc brake. The bike has a 12.7 liters of fuel tank and weighs 120 kg only. The front disc brake not just makes the bike safe, but also increases the attraction factor of the bike. Its 173 mm ground clearance makes it the best choice for Indian roads.
Quick Facts - Mahindra Centuro Disk Brake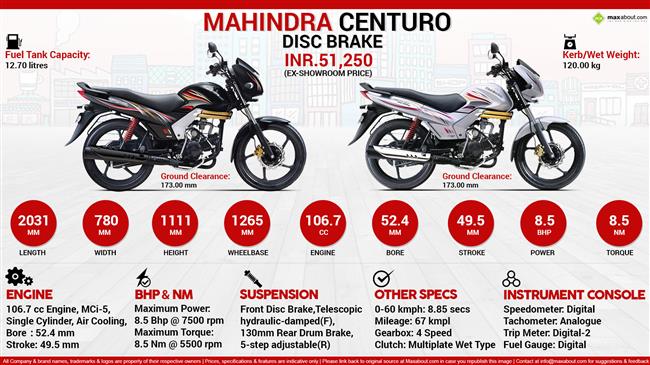 From where from can I buy LML 200cc scooter?
29 December 2022 05:44
Your nearest LML showroom is situated in Maharashtra and you can contact at +91-512-6660300 for more information on buying a LML 200 cc scooter.
From where can I get the spare parts for my LML Beamer?
29 December 2022 05:47
LML has no official service center in Karnataka and you have to go a bit far for your parts for the LML Beamer. Your nearest dealer is SRI SAI KRISHNA AGENCIES, situated in Hyderabad, Andhra Pradesh. You can reach them at #210, TOPAZ BUILDING, AMRUTHA HILLS, PANJAGUTTA, HYDERABAD or you can call them for the assistance first at 8466888111,7095003444. They will guide you through the process and you may also get a way out without going so far for the parts. You can also contact the customer care of LML at +91-512-6660300, 2691381.
Ask a Question