Yamaha SS
Yamaha SS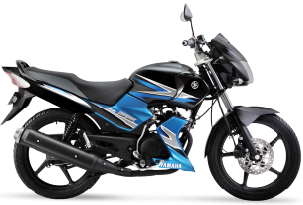 Popularity
This week: 238 views
All time: 3,41,034 views
Ex-Showroom Price
Rs. 55,500
* Delhi. May vary.
Also Consider
Vehicles with similar features
VEHICLE SUMMARY

Name:
SS125
Shades:
Red with Black, Blue with Black
Kerb Weight:
125.00 kg
Type:
Commuter

PERFORMANCE AND MILEAGE

Top Speed:
105 kmph
Mileage in City:
55.00 kmpl
Mileage on Highway:
75.00 kmpl
0 to 60:
6.63 secs

ENGINE SPECIFICATIONS

Displacement:
123 cc
Engine:
123cc, 4-stroke
Maximum Power:
10.9 Bhp @ 7500 rpm
Maximum Torque:
10.4 Nm @ 6500 rpm
Gears:
5 Speed
Clutch:
Multiplate wet type
Bore x Stroke:
54 x 54 mm
Engine Block Material:
Aluminum Alloy
Chassis Type:
Diamond tubular type
Cooling Type:
Air Cooling

DIMENSIONS & CAPACITIES

Length:
1995.00 mm
Width:
730.00 mm
Height:
1110.00 mm
Ground Clearance:
155.00 mm
Wheelbase:
1295.00 mm
Fuel Tank:
13.60 litres
Instrument Cluster

Fuel Gauge:
Analogue
Tachometer:
Analogue
Speedometer:
Analogue
Trip Meter:
None
Low Fuel Indicator:
Low Oil Indicator:
Low Battery Indicator:
High Oil Temp. Indicator:
Choked Air Filter Indicator:

OTHER SPECIFICATIONS

Headlamp:
12V 35/35W Halogen bulb
Alloys:
Battery Type:
Maintenance Free
Battery Voltage:
12V
Capacity:
5AH
Wheel Type:
Alloys
Tyre Size:
2.75-18.4PR, 3.00-18.6PR
Tubeless Tyres:

Brakes & Suspension

Suspension (Front):
Telescopic Fork
Suspension (Rear):
Swing Arm
Brakes (Front):
Disc 240mm dia
Brakes (Rear):
Drum 130mm dia

COMFORT AND CONVENIENCE

Stand Alarm:
Self Start:
Passenger Footrest:
Passenger Backrest:
Step-up Seat:
Pass-light:
Yamaha SS Review
SS125 is Gladiator with new graphics.
Tuesday, October 22, 2013
Design and Style
Like the original Gladiator from which it originated, the Yamaha SS125 is a commuter type vehicle; and its design is very closely modelled on that of the previous incarnation. Its sporty, powerful character is emphasized by its newly added aerodynamic rear fender, lowered front cowl, machine-gun muffler end and smart chain cover. Its sleek body and metallic curves are quite eye-catching, enhanced by attractive-looking headlamps in the front and broader fuel tank gives it a distinctly tough and masculine looks. It appears larger than other bikes. The fiber elements of the SS125 are well formed to give it a highly unique shape. The bike sports a diamond tubular type chassis, and all of the materials are smart and high quality. It feels strong and sturdy overall, and looks durable – capable of manoeuvring off and on road.
Instrument Console
The instrument panel on the bike is stylish and smart, with the standard fuel gauge, speedometer and RPM meter. The cluster design is basic – the dials are all easy to read but the overall impression is disappointing when so much attention has been paid to the bike's other design elements.
Engine and Gearbox
The Yamaha SS125 features a 123.77cc single-cylinder, four-stroke, air-cooled SOHC two-valve engine, capable of a maximum power of 11 bhp at 7500 rpm and a maximum torque of 10.4 Nm at 6500 rpm, with five-speed constant mesh transmission. The engine is certainly one of the bike's best features, with a good level of power that you feel as soon as you push the self-start button.
Acceleration and Top Speed
Yamaha SS125's engine is stable and well refined, and gives good performance when accelerating. Thanks to its short gear ratios, the bike can jump from 0 to 60 in almost no time at all, with excellent acceleration in the lower gears; however, once it reaches about 90kmph there's a definite reduction in power, and pushing the bike beyond the 100 mark is difficult and takes time.
Mileage
The bike is claimed by Yamaha to offer an average fuel mileage of between 50 and 55 kilometres per litre, up to 60 kilometres per litre on the open highway. This places it right in the middle of the scale compared to the competition; but it's disappointing when compared to a bike such as the Honda Twister, capable of a maximum mileage of 84 kilometres per litre. Unfortunately, it seems that Yamaha's estimates are somewhat high – users of the SS125 have found that it generally delivers just 35 to 40 kilometres per litre, which is a major count against it. The bike's fuel tank has a capacity of 13.6 litres
Comfort While Driving
Yamaha have attempted to refine the riding experience of the SS125, and have been largely successful. The bike's shoe-type seats are of a generous size and width that should be comfortable for almost any driver and the well-designed and implemented suspension gives the bike excellent stability, absorbing shocks even on uneven road surfaces. The foot rests and pegs are positioned for good ergonomic posture.
Storage Space
If you need a bike with ample storage, the SS125 is certainly not the bike for you. Like other sports-type bikes, it features very little in the way of on-board storage, with no capacity under the seat for stowing a helmet. This is not necessarily a design fault, as the bike is intended to be as lightweight and unencumbered as possible, but the lack of any storage is slightly disappointing for those with practical travel in mind.
Suspension
The SS125 features telescopic fork hydraulic type suspension at the front and a rectangular swing arm with hydraulic shock absorbers at the rear. In practice, the suspension copes well with bumpy and uneven surfaces, absorbing most of the vibrations with ease. It's only when you take it way off road and onto really challenging surfaces that you start to feel discomfort – but this is hardly a criticism, as the bike is clearly designed for city and highway travel, which it performs with ease.
Brakes
The brakes on the bike feel solid, stable and balanced, and the bike's stopping distance is quite short, despite all of that engine power. The bike features disc brakes at the front and drum brakes at the rear, both with good response.
Ride and Handling
Yamaha bikes have a reputation for their capable and flexible handling, and the SS125 is true to this. Even at high speeds, the bike handles very well, and generates very little vibration, even when performing at higher RPMs. However, its narrow tyres mean that the bike feels slightly unstable when leaning through corners.
Tyre Size
The Yamaha SS125 features new alloy wheels. The front tyre is a 2.75-18.4 PR, and the rear is a 3.00-18.6 PR. These tyres are somewhat on the narrow side – it would perhaps have been better to increase the width to provide greater control and stability, and a sounder grip on the road surface.
Shades Available
Unlike other bikes of this market segment, the SS125 is available in a very limited palette of shades – Black with Red and Blue with Red – but both of these are very attractive and well suited to the bold design of the bike's body.
Reasons to Buy
The Yamaha SS125 is highly powerful, with good handling, braking and control, and responsive suspension that performs on almost any road surface.
Value for Money
The Yamaha's price tag positions it close to its nearest rivals, which makes it good value because of the engine power it offers. The bike's build quality is also excellent, so you can be sure that it will run and run for a long time.
Verdict
The Yamaha SS125 mounts a strong challenge to the existing bikes on the market in this class, such as the Hero Honda Glamour or the TVS Flame, with plenty of power and a great design that will win over many drivers.