Peugeot Cars
Featured Peugeot Cars
Most Popular Cars by Peugeot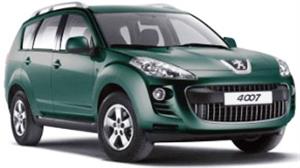 Peugeot 4007 SUV
481 views this week
₹ 22,00,000
All Cars By Peugeot
Categorized Peugeot Cars by Status
Peugeot Cars by Body Type
Filter Peugeot Cars by Body Type
Latest Peugeot News
Recently Added News
About Peugeot
Know more about Peugeot
Peugeot is the second largest French car maker in Europe. Recently, the Peugeot has launched its diesel hybrid, 508 RXH. The car was first show to the audience at the Frankfurt Motor show. This car which is going to be launched on 2012 was officially launched ahead of the world debut at the motor show that happened in 2011, September. This 2 litre HDi diesel engine comes with a 28 kilowatt electric motor. The Peugeot 508 RXH featuring the all-wheel drive comes with a Hybrid4 technology. The drive unit of the diesel-hybrid electric drive delivers up to 147 Kilowatt, and gives out torque of 332 pound. Though the French automaker hasn't yet revealed about the zero-emission range of the vehicle, it is expected to consume about 4.2 liters of diesel every 100 kilometers.
Related Resources
You may like to view
Questions and Answers
Most Popular Answers for Peugeot
When will Peugeot Satelis 125 launch in India?
29 December 2022 06:09
Peugeot currently offers no product in the Indian market while its entry into the country is expected by 2017. It will most probably enter India with an alliance with Mahindra and this will open up their ways for both 2 and 4 wheeler in the country. Peugeot Satelis 125 may arrive in India and share the higher tuned version of Mahindra 125 cc engine for increased localization in the coming year. It will be priced on the higher side of 1 lakh while more localization like Aprilia SR 150 can lead to a better and attractive price tag for the scooter.
When will the Peugeot Django launch in the Indian market?
29 December 2022 06:08
Peugeot Django has no confirmed launch date for India. The classic scooter rivals Piaggio's Vespa series and comes with a 125cc, air-cooled, single cylinder engine. It produces a max of 10.05 BHP and uses automatic gearbox for the transmission purposes. Django comes equipped with a single front and rear disc brake, making it more braking friendly than the Piaggio Vespa. It may get a price tag of around INR 90,000 after localization. If not, the price won't be anything less than INR 1,50,000.
Where is Peugeot showroom in Gurgaon?
29 December 2022 06:05
Peugeot exited the Indian market is 1997 when they shut their shop in Mumbai following a financial crisis, and an ugly feud with their partners. They haven't made a come-back since then. Peugeot does have plans to enter the Indian market, through an alliance with Tata, once again. But as of now, the Peugeot Django is not available in India.
What is the price of Peugeot 308 in India?
29 December 2022 06:08
Peugeot 308 is currently not available in India. If launched in the coming time, the car can get an expected price of 9.5 lakh. It competes with the premium, above 4 meter hatchback segment and comes with a 1560 cc engine producing 90 BHP and 215 Nm of torque. The top speed of the car stays 167 kmpl while its 14 second 0-100 kmph time makes it less powerful than most of the cars around this expected price tag.
Ask a Question