DC Cars
Featured DC Cars
Most Popular Cars by DC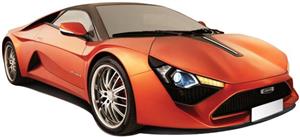 DC Avanti Turbo
204 views this week
₹ 36,80,000
All Cars By DC
Categorized DC Cars by Status
Latest DC News
Recently Added News
About DC
Know more about DC
The designer of India's first supercar DC Avanti, Dilip Chhabria is the founder of DC Design. An advertisement in a car magazine inspired him to become a car designer after his graduation in Commerce.
He became a qualified car design professional from Art Centre of Design, Pasadena, U.S. He worked for General motors after graduation. Dilip has had an incredible journey from his first production which was a ring shaped horn to the creation of DC Avanti in 2015.
DC Avanti is known as India's first supercar. The car has a coupe sports car design and is produced by DC Design which is owned by Dilip Chhabria. The sports coupe was unveiled at the Auto Expo in 2012 in New Delhi. It is powered by 2.0 litre, four-cylinder, turbocharged petrol engine that outputs a maximum power of 250bhp.
The engine is mated to a 6-speed manual transmission. You can also avail a limited edition of the car launched in 2015 which produces a power of 310 bhp and supports paddle shifters. The frame of the sports car is made with composite high steel to create a lightweight vehicle that is actually immensely strong. It is available in the market in 7 stunning shades- red, white, silver, blue, orange, grey or yellow, with black stripes.
The Auto Expo 2018 brings every DC enthusiast a much appreciated surprise- DC TCA where TCA stands for Titanium, Carbon and Aluminium, a new sports car. The car is supposed to go on sale in the late 2018 and will only be selling 299 units.
The new sports car's design is inspired from Pagani Zonda and the LaFerrari. It is supposed to represent a highly modified version of the DC Avanti. DC TCA is powered by 3.8 litre, V6 engine that produces maximum power of 320 hp. The engine is mated to a 6 speed automatic gearbox. The car is supposed to be priced approximately near INR 39 Lakh (ex showroom Delhi).
Related Resources
You may like to view
Questions and Answers
Most Popular Answers for DC
What is the minimum EMI and down payment for DC Avanti?
13 January 2023 03:29
DC Avanti offers a variety of loan plans to suit your needs and requirements. The down-payment amount and EMI amount largely depend on the loan plan you choose. The interest rate and loan period may also differ from one plan to another. You can even opt for a zero down-payment loan if you have a high credit rating. To get the best loan plan that suits you, we advise you to visit your nearest DC Avanti dealer who will guide you through the process.
Is DC Avanti a good value for money? Does it offer better luxury and comfort?
13 January 2023 03:28
The DC Avanti is a great value for money as it offers a lot of luxury and comfort for the price. The interiors are stylishly designed and built from superior materials. The dashboard layout looks neat and well designed. The front seats provide great support and are well cushioned, making it comfortable to travel in. What's more, there is no sports car available in India at this price range, making it a great deal for anyone looking for a sports car. However, the car still needs some improvements to make it a perfect sports car, but overall, it is still a great value for money.
What is the ground clearance of DC Avanti?
13 January 2023 03:27
The DC Avanti is a stylish and powerful car that comes with a ground clearance of 170 mm. This makes it a great option for tackling bad roads and off-roading. It has a good suspension and sturdy body that can handle rough terrain with ease. So, if you're looking for a car that can handle rough roads and off-roading with ease, the DC Avanti is a perfect choice.
Does the Honda CB Shine SP (2016) come with a DC headlamp?
29 December 2022 06:08
The CB Shine SP is equipped with a 124.73 cc, 1-cylinder air cooled unit which can produce 10.57 BHP @ 7500 rpm and 10.3 NM @ 5500 rpm. You would experience a hassle free performance for the first 60 kmph. The electricals of the bike include a 12V 3Ah Battery and 12V 35/35W Head lamp. The bike has got 124 kg kerb weight along with a fuel tank capacity of 10.5 litres.
When is DC Planning to Launch the Avanti Supercar in India?
29 December 2022 06:11
Since the phone has been discontinued, it is not available online either. You can inquire in your local market for a chance that either someone is selling their old phone or some dealer has an unused phone in stock.
Ask a Question