Land Rover Cars
Featured Land Rover Cars
Most Popular Cars by Land Rover
All Cars By Land Rover
Categorized Land Rover Cars by Status
Latest Land Rover News
Recently Added News
About Land Rover
Know more about Land Rover
Toll Free Roadside Assistance Number:
1800-209-3200
Land Rover is owned by Jaguar Land Rover, a British car manufacturer, which is further owned by Tata Motors since year 2008. The brand is world famous for its super impressive four wheel drives. It is even known as the British Icon for being granted a Royal warrant in 1951 by King George VI.
1948 was the original year of the release of the first Land Rover Series and the Land Rover name was first used by Rover Company. The company manufactures 6 four wheel drives namely Defender, Freelander, Discovery, Range Rover, New Range Rover Velar, Range Rover Sport and Range Rover Evoque.
BMW acquired Land Rover in 1994 which was further purchased by Ford in 2006. In 2007, it was planned to see the Jaguar cars with the Land Rovers and finally in 2008, Tata Motors of India won the bidding and acquired the sole membership of the brand after that.
Maurice Wilks was the chief designer of the brand who created the first model in 1947 by using a Jeep chassis and some of the other components which was officially launched on April, 30, 1948. Range Rover Velar is the recent model of Land Rover launched in 2017. It is a mid size crossover SUV whose design shares many components with the Jaguar models- XE, XF and F-Pace.
The company allows you to build your own perfect Land Rover. All you have to do is choose the best design for you and specify the interiors and outer details with the colors of your choice and technology. You can admire your vehicles from every angle with the 360 degree view and save it for later changes. Once you are done with your own design, you can download it from the site and show it your friends and the nearest Land Rover manufacturer.
Related Resources
You may like to view
Questions and Answers
Most Popular Answers for Land Rover
What is the ex-showroom price of Land Rover Freelander S Business Edition?
29 December 2022 06:12
Yes, Maruti Suzuki has confirmed that they would not bring in the 7-seater WagonR to India. This has been a move by the company to focus their attention on the new Ertiga, which they plan to offer in a wider price range.
What is the ex-showroom price of Land Rover Freelander S Business Edition?
29 December 2022 10:15
Land Rover Freelander S Business Edition comes at an exciting ex-showroom price of Rs. 37.63 Lakh.
What is the ex-showroom price of Land Rover Freelander S Business Edition?
09 February 2023 14:24
2020 model
Is the design of Tata Safari Storme being upgraded to look like Land Rover?
29 December 2022 05:38
Tata Safari Storme has a resembling design to the Land Rover and that is only because both the companies are under TATA group. They are using mild customization's to their Safari Storme, making it look more aggressive and attractive. The differences will always stay up as they cannot alter the width of Safari Strome and also the 2.2 L turbodiesel engine cannot compete to the V6 and V8 of a Land Rover. Also the price difference would be quiet high between both the cars, making Safari Storme not a rival of its senior SUV's. Using the Land Rover style may bring more sales to the Safari.
Tata Safari Storme - The Real SUV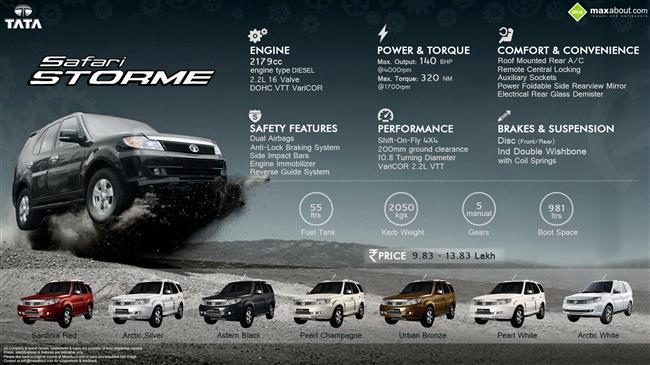 Ask a Question