Ola Bikes
Featured Ola Bikes
Most Popular Bikes by Ola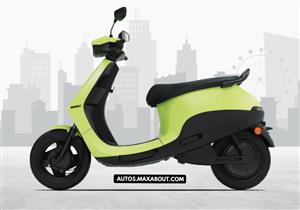 Ola S1 Air
4853 views this week
₹ 1,19,999
All Bikes By Ola
Categorized Ola Bikes by Status
Ola Bikes by Body Type
Filter Ola Bikes by Body Type
Latest Ola News
Recently Added News
About Ola
Know more about Ola
Ola is a ride sharing company that operates in India. The company was founded in 2011 and is headquartered in Bangalore. Ola Bikes is a bike-sharing service launched by Ola, an Indian ride-hailing service provider. It was launched on March 27, 2018, and has since expanded to seven cities: Ahmedabad, Chennai, Hyderabad, Kolkata, Mumbai, Delhi and Pune.
Ola Bikes is a revolutionary bike sharing service that has taken the world by storm. With its innovative technology and easy-to-use interface, it has become one of the most popular bike sharing services in the world.
Ola Bikes allows riders to rent bikes at a low cost and return them to any available bike stand, making commuting a breeze. It also offers a variety of features, such as real-time bike tracking, bike availability alerts, and more. With its low cost, convenience, and safety features, Ola Bikes is the perfect choice for anyone looking to get around in style.
Ola Bikes is an innovative new way to get around your city. With their bike-sharing scheme, you can pick up a bike and drop it off at any station, making it an easy and convenient way to commute. Plus, they offer discounts and rewards to their users, making it an even more attractive option. Ola Bikes is the perfect way to explore your city and get to where you need to go.
Related Resources
You may like to view
Questions and Answers
Most Popular Answers for Ola
Is it compulsory to charge Ola S1 Pro 2nd Gen Pro fully for the 1st time?
03 September 2023 22:41
It is necessary to charge the Ola S1 Pro 2nd Gen fully every time to avoid inconvenience and battery discharge while riding the Ola S1 Pro 2nd Gen. The uncharged battery of Ola S1 Pro 2nd Gen can lead to unnecessary breakdown or delay in reaching your destination on time and many more unsaid problems.
Can I purchase Ola S1 Pro 2nd Gen through CSD?
03 September 2023 22:39
Ola S1 Pro 2nd Gen is an electric scooter available in the Indian automobile market. In order to avail of the CSD benefit, you should be eligible to get CSD benefits. If you or someone in your family is or was serving in the Indian Army, Navy, Air Force, or Defence sectors on payrolls from the Indian government, you are eligible for CSD canteen. In order to know the CSD price of Ola S1 Pro 2nd Gen, it is advised to visit the nearest Ola bike dealership. A dealership executive will guide you with a price list depending on variants and cities.
Can I drive Ola in rain?
03 September 2023 22:37
Yes, you can. Your Ola scooter is water-resistant!
Can 2 people sit on Ola S1 Pro?
03 September 2023 22:36
Ola Electric S1 is reasonably capable of carrying the weight of two average adults. For a better understanding of performance and riding comfort, we suggest you take a test ride.
Which is better TVS X or OLA S1 Pro Gen 2?
31 August 2023 11:17
Deciding between the TVS X and OLA S1 Pro Gen 2 depends on what you want. Both are electric scooters with some differences. TVS X might be more about new ideas and style, while OLA S1 Pro Gen 2 could have special features and benefits from OLA. To pick the right one for you in the city, check their details, features, and what you need.
Ask a Question