Bajaj Discover 125 ST
Bajaj Discover 125 ST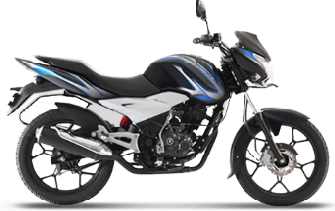 Popularity
This week: 217 views
All time: 13,05,811 views
Ex-Showroom Price
Rs. 57,000
* Delhi. May vary.
Discontinued
Also Consider
Vehicles with similar features
VEHICLE SUMMARY

Name:
Discover 125 ST
Shades:
Blue, Black, Grey, Red
Kerb Weight:
121.00 kg
Type:
Commuter

PERFORMANCE AND MILEAGE

Top Speed:
105 kmph
Mileage in City:
50.00 kmpl
Mileage on Highway:
65.00 kmpl
0 to 60:
5.94 secs

VERDICT

FOR:
NA
AGAINST:
NA

ENGINE SPECIFICATIONS

Displacement:
124.6 cc
Engine:
124.6cc, 4-stroke
Maximum Power:
12.8 Bhp @ 9000 rpm
Maximum Torque:
11 Nm @ 7000 rpm
Gears:
5 Speed
Clutch:
Wet Multi Plate Type
No. of Cylinder:
1
Valve Per Cylinder:
4
Chassis Type:
Semi Double Cradle Frame
Cooling Type:
Air Cooling

DIMENSIONS & CAPACITIES

Length:
2035.00 mm
Width:
714.00 mm
Height:
1070.00 mm
Ground Clearance:
170.00 mm
Wheelbase:
1305.00 mm
Fuel Tank:
10.00 litres
Instrument Cluster

Fuel Gauge:
Analogue
Tachometer:
None
Speedometer:
Analogue
Trip Meter:
None
Low Fuel Indicator:
Low Oil Indicator:
Low Battery Indicator:
High Oil Temp. Indicator:
Choked Air Filter Indicator:

OTHER SPECIFICATIONS

Electrical System:
DC Ignition, Digital CDI
Headlamp:
35/35W
Alloys:
Battery Type:
Maintenance Free
Battery Voltage:
12V
Capacity:
5Ah
Wheel Type:
5-spoke Alloys
Tyre Size:
2.75x17" - 3.00x17"
Tubeless Tyres:

Brakes & Suspension

Suspension (Front):
Telescopic (130 mm)
Suspension (Rear):
Nitrox Twin (110 mm)
Brakes (Front):
200mm Petal Disc
Brakes (Rear):
130mm Drum

COMFORT AND CONVENIENCE

Stand Alarm:
Self Start:
Passenger Footrest:
Passenger Backrest:
Step-up Seat:
Pass-light:
Bajaj Discover 125 ST Review
Sports Tourer
Tuesday, October 22, 2013
Overview
The brand-new 'Sports Tourer' bike to be announced by Bajaj is the Bajaj Discover 125 ST, a revamp of the previous Discover model. It is powered by a 4-Valve, air-cooled, 4-stroke 124.6 cc engine, which generates maximum power of 12.8 Bhp at 9000 rpm with maximum torque of 11 Nm at 7000 rpm. Bajaj Discover 125 ST features telescopic forks at front and nitrox monoshock rear suspension. It also features petal shaped 200mm front disc brake and 130mm drum rear brake. It's pitched at the casual driver making trips of a few hundred kilometres, rather than epic cross-country journeys – so how does it compare with other bikes in the crowded commuter segment?
Design and Style
The Discover 125 ST is transformation of the previous model of this commuter-type motorbike, and the overall exterior design is stylish with plenty of flair. The sleek, well-formed cowl is complimented by the wide, eagle-eyed headlamps and up-lifted pilot lamps. As suggested by the 'Sports Tourer' name, Bajaj has been inspired by the athletic design of other bikes in this price bracket, particularly the Stunner, featuring highly stylish decals and a relatively lightweight frame, weighing in at 124.5 kg. Its newly designed front mudguard has a sharp, chiseled appearance and the revamped fuel tank is generously curved without being excessive.
Instrument Console
The Bajaj Discover 125 ST is outfitted with an entirely analogue instrument console, which is standard for vehicles in this class. All of the instruments are clear and highly readable, with a prominent odometer, speedometer, fuel gauge and trip counter. The central panel is really the only misstep in the exterior design – it looks slightly tacky and poor quality, just a piece of silver plastic – and subtracts from the general high standard build of the bike.
Engine and Gearbox
The Discover 125 is equipped with a 124.6cc air-cooled, single-cylinder, 4-stroke engine, capable of a maximum power output of 12.8 Bhp at 9000 rpm, and a maximum torque of 11 Nm at 7000 rpm. The gearbox is a 5-speed. This innovative engine with its four-valve system, first seen on Bajaj's Pulsar 135 bike, delivers plenty of power by enabling the single cylinder to draw in more air more quickly.
Acceleration and Top Speed
Acceleration on the Discover 125 is extremely capable, thanks to its efficient and powerful engine. The bike can accelerate from 0 to 60kmph in a mere 5.94 seconds, an impressive showing from a bike of this class. The Discover 125 ST delivers a maximum speed of 105kph. The bike moves swiftly through its gears, and the engine doesn't demonstrate any indications of stress, even with rough throttling.
Mileage
The aim of the bike, as claimed by Bajaj, is to deliver excellent mileage without compromising on the bike's style. Bajaj claims that the Discover 125 ST will deliver an average fuel consumption of between 65 and 70 kmpl on the road – a pretty ambitious claim for a 125cc bike. In practice, you'll find that the bike returns between 55 and 65 kmpl on city roads, and a touch more on highways. The fuel tank can store up to 10 litres of fuel.
Comfort While Driving
Discover 125 ST has an upright riding position, with forward-positioned footrests for the driver. The seat for driver and pillion is wide, comfortable and plush, and extremely well designed, so you'll find both short and long journeys no problem at all. The handlebars are well positioned for a comfortable driving posture. The driver's knees fit snugly into the fuel tank recess (10 litres), giving a compact and highly controlled feel.
Safety Features
The bike includes an Anti-Vibration frame, intended to provide greater stability for riders. Its front petal disc brakes are an excellent addition to its overall safety.
Storage Space
Like other rivals in this class, the Discover ST features very little in the way of storage space – if storage is a priority, you might consider a bike such as the Mahindra Duro.
Suspension
The bike is equipped with telescopic fork suspension at the front and, a new innovation for the Discover 125, nitrox (gas-powered) mono-shock suspension at the rear. The benefit of this newly fitted system is that the suspension is much closer to the bike's center of gravity, lending the bike improved stability and control, even when making sharp turns.
Brakes
At the front, the bike is equipped with 200mm petal disc brakes, and at the back you'll find 130mm drum brakes. The drum brake is the standard for bikes in the 125cc bracket of the market. The front brake, which is used far more than the rear, has a strong, solid feel and decent feedback. Braking at higher speeds isn't at all jarring, and the brakes always feel balanced.
Ride and Handling
Overall, the Discover 125 ST offers a smooth and satisfying ride, handling well on the average road surface. However, the bike's vibrations can become disruptive when tackling uneven surfaces or speed bumps. Its light and flexible handling enables it to weave nimbly through city traffic, with a confident display at higher speeds.
Tyre Size
The bike is fitted with matte-finished, 5-spoke alloy wheels that support a TVS tubed tyre. The tyres size of Discover 125 ST is underwhelming compared to other bikes in this class. Clearly, Bajaj have exercised some cost control in choosing this tyre type, base and rims – and most drivers will find that these tyres are adequate for the demands placed on the bike by city and highway roads.
Shades
Bajaj Discover 125 ST is available in four attractive shades: Blue, Blue+Black, Red and Red+Black.
Accessories
A wide range of accessories can be purchased in addition to the standard fittings of the bike.
Variants
The Discover 125 ST is available in a single standard variant.
Reasons to Buy and Value for Money
Bajaj Discover ST is an excellent buy for the urban commuting driver who occasionally wants to take a pillion rider on longer journeys, and is looking for a bike with plenty of power and capable handling. Priced at Rs. 55,000 (ex-showroom, may vary), the Bajaj Discover 125 ST is sold at a competitive price given the range of features and its powerful engine.
Verdict
Aiming to recapture the imaginations of daily city commuters and casual bikers, the Bajaj Discover is an accomplished ride with plenty to recommend it – a worthy rival for bikes like the Hero.