Avon e-scoot
Avon e-scoot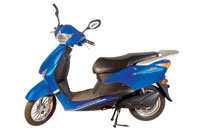 Popularity
This week: 24 views
All time: 44,762 views
VEHICLE SUMMARY

Name:
e-scoot
Kerb Weight:
46.00 kg
Type:
Scooterette

PERFORMANCE AND MILEAGE

Top Speed:
38 kmph

ENGINE SPECIFICATIONS

Maximum Power:
220W
Gears:
Automatic

DIMENSIONS & CAPACITIES

Length:
N/A
Width:
N/A
Height:
N/A
Instrument Cluster

Fuel Gauge:
None
Tachometer:
None
Speedometer:
Analogue
Trip Meter:
None
Low Fuel Indicator:
Low Oil Indicator:
Low Battery Indicator:
High Oil Temp. Indicator:
Choked Air Filter Indicator:

OTHER SPECIFICATIONS

Alloys:
Tubeless Tyres:

COMFORT AND CONVENIENCE

Stand Alarm:
Self Start:
Passenger Footrest:
Passenger Backrest:
Step-up Seat:
Pass-light:
Avon e-scoot
Overview
Energy Efficient and Easy to Drive
If you are looking for a cheap mode of transportation for everyday use but will not cost so much then the Avon E-Scoot could be the best for you. The Avon E-Scoot is a high speed electronic scoter that has a top speed of 24 kph, not bad for a small scooter equipped with a battery operated motor. The Avon E-Scoot is very light compared to gasoline powered scooters and most importantly it does not cost a lot to drive this. Electronic scooters have been very popular and widely used because of its efficiency and its contribution to the environment. The Avon E-Scoot is not just eco-friendly but it is also user friendly because anyone can just drive this scooter without any worries. One single charge of this electronic scooter will reach up to 65 kms. For an electronic vehicle, this scooter enables you to travel longer without having to spend more.