Get ready to dive into the world of two-wheeled excitement with the Aprilia RS457. Its powerful engine, stylish look, and high-tech features can change the way you perceive motorcycles completely. Let's examine more closely what makes the RS457 unique among bikes.
KEY FEATURES
Powerful Engine: The Aprilia RS 457 comes with a strong engine that makes it go really fast. It boasts even more power than a number of popular bikes in its class.
Eye-Catching Design: This bike looks really cool and sporty.
Smooth Ride: The RS 457 has unique components below that make the ride smooth and weightless. These components can be changed so that the ride is customized to your preferences.
Quick-Stopping Brakes: The bike features excellent brakes. When you need to stop, they aid you in doing so securely and fast.
Fancy Electronics: It has a fancy screen that displays all the crucial data, such as your speed.
Different Riding Modes: By pressing a button, you can modify the bike's behavior. There are modes for various circumstances, such as cycling through cities or traveling quickly on a highway.
Safety: First and foremost, safety. The RS 457 has a unique mechanism that helps keep the wheels from slipping, ensuring your safety while riding.
Good Tyres: The wheels have excellent tires that have excellent traction on the ground. This enables you to keep control even when the path is not perfect.
Price: It will run about Rs. 4.25 lakh when it is made available. That pricing is reasonable given the fantastic things this bike is capable of.

The Aprilia RS 457 is a potent and stylish motorbike with contemporary comforts for a safe and enjoyable ride. It is created with functionality and enjoyment in mind, and the pricing is fair for what it gives.
DYNAMIC AND AERODYNAMIC DESIGN
You will definitely notice the Aprilia RS 457's sporty and aerodynamic design. It was constructed for high performance and speed, not merely for nice appearances. Now let's get into the specifics:

Aggressive Styling: The RS 457's design radiates aggression. It's not a bike that blends in with the crowd; rather, its striking appearance makes it stand out.
The Aprilia Signature Look: It maintains the distinctive style of Aprilia. The RS 457 is another example of the quick, imposing motorcycles that Aprilia is renowned for producing.
Bigger Supersports as Inspiration: The designers were influenced by the larger Aprilia Supersport models. This entails that you experience the major leagues in a more manageable setting.
Aerodynamic Bodywork: The RS 457's body is engineered to effortlessly slice through the air.
Amazing Appearance: When riding the RS 457 on the road, be prepared to attract attention. It's a statement of grace and speed rather than merely a bike.

To put it simply, the Aprilia RS 457's design combines strength and beauty. Its aerodynamics improve its performance, and it is not only aesthetically pleasing but also useful. This bike is designed specifically to stand out on the road.
COLOR OPTIONS FOR THE APRILIA RS457
When it comes to selecting the color of your Aprilia RS 457, you have a number of great options, all of which are based on personal preference.

Racing Red: Choose the Racing Red if you want to make a bold statement. It is fierce and alluring, perfect for riders who like to be the center of attention.
Maybe you like to appear more subdued.
Stealthy Black: In that circumstance, the Stealthy Black is what you require. It is beautiful and graceful, making it ideal for those who appreciate riding tastefully without being overly flamboyant.
Vibrant Blue: The Vibrant Blue option gives your RS 457 a splash of color. It is vivid and interesting, which will appeal to riders who wish to stand out on the road.
Classic Silver: The Classic Silver color is a fantastic option for people who value traditional elegance. It is a versatile option that is constantly fashionable.

So the Aprilia RS 457 has a colour option for you whether you want to make a huge statement or prefer a more modest style. Pick the strategy that most closely reflects your riding personality and style.
OUTSTANDING ENGINE PERFORMANCE
The Aprilia RS 457's engine is its beating heart, and it is a very unique engine. Now let's get into the specifics.

Newly Developed Engine: Aprilia has designed a completely new engine for the RS 457. It has a 457cc twin-cylinder engine and liquid cooling, so even when you push it to the maximum, it won't overheat.
Powerful Output: This engine is like a powerhouse. It has a mind-blowing 47.6PS of power. It outperforms several of its competitors, like the Kawasaki Ninja 400 and KTM RC 390, which produce 45PS and 43.5PS, respectively, to give you an idea of how good that is.
Manageable Weight: This is the exciting part. Although the bike has a lot of power, Aprilia has managed to keep the weight under control. It only adds 3kg to the KTM RC 390's weight of 175kg.
Flexible and quick: The RS 457 is not just about sheer power because of its powerful engine and moderate weight. How that power is used has something to do with it. Its agility and quickness will make your rides fun.

In the long run, the Aprilia RS 457 engine is a work of engineering genius. Although it still has an airy, agile feel to it, it also produces remarkable power. Riding this bike is more about feeling the rush of accuracy and performance than it is about speed.
SMOOTH AND PRECISE RIDE: THE RS 457'S HIDDEN STRENGTHS
Let's examine the essential elements that give the Aprilia RS 457 a dreamy handling feel:

A Suspension That Changes to Fit You: The RS 457 is constructed using high-quality subframes, which means the components that support the bike are of the highest caliber. It has a monoshock-style rear suspension and a 41mm upside-down front fork. It's great that you can customize both of these to your tastes. You can adjust these components to your preferences for a softer or firmer ride. The RS 457 doesn't mess around when it comes to stopping; they stop on a dime. The enormous 320mm front brake disc is smaller than the 220mm rear brake disc. It may thus halt instantly and safely. Additionally, it boasts Dual-channel ABS, which functions as an additional safety net. It aids in preventing wheel locking while braking forcefully.
Fun Supermoto Mode: The "supermoto mode" is now available for those who want to have some fun. It's similar to having a particular setting that allows for regulated rear wheel movement. It's similar to performing a cool bike stunt.
The RS 457 is equipped with TVS Eurogrip Protorq Extreme tires, which are grippy tires for any road. These tires are made to provide you with good traction on a variety of surfaces. You will therefore feel assured and in charge whether you're driving down a smooth highway or a winding country road.

In conclusion, the RS 457's foundation is focused on giving you a comfortable ride, precise handling, and the capacity to stop safely when necessary. It's like riding a bike that is perfectly tuned to your tastes, which makes every ride enjoyable.
ENHANCED RIDING EXPERIENCE WITH MODERN ELECTRONICS
Modern electronics are a key part of what makes the RS 457 a remarkable ride. Let's dive into how these electronics elevate your biking experience:

1. High-Tech Display: The RS 457 comes equipped with a cutting-edge 5-inch TFT (Thin Film Transistor) display. This screen is not only crystal clear but also customizable, so you can see the information that matters most to you while riding.
2. Bluetooth Connectivity: Riders who are tech-savvy can choose to use the Bluetooth connectivity capability. You can connect your smartphone to the bike using this. This opens up a world of opportunities, including the ability to control your music playlist while riding and receive navigation support directly on your bike's display.
3. Ride Modes: This bike is not only multifaceted but also versatile. It has three unique ride modes. Consider them as the several characters of your bike. You may adjust the performance of the RS 457 to match your mood and the driving conditions, whether you're strolling along a beautiful route or pushing the limits on a winding circuit.
4. Traction control: When you're on two wheels, safety is a top priority. The RS 457 provides three degrees of traction control because it takes this seriously. It entails that you can ride with assurance knowing that your bike is set up to tackle slick terrain and unforeseen difficulties while keeping you stable and secure.

The RS 457 is much more than just a bicycle; it's a cutting-edge ally that takes into account your preferences, keeps you informed, and assures your safety. The modern rider's fantasy has come true.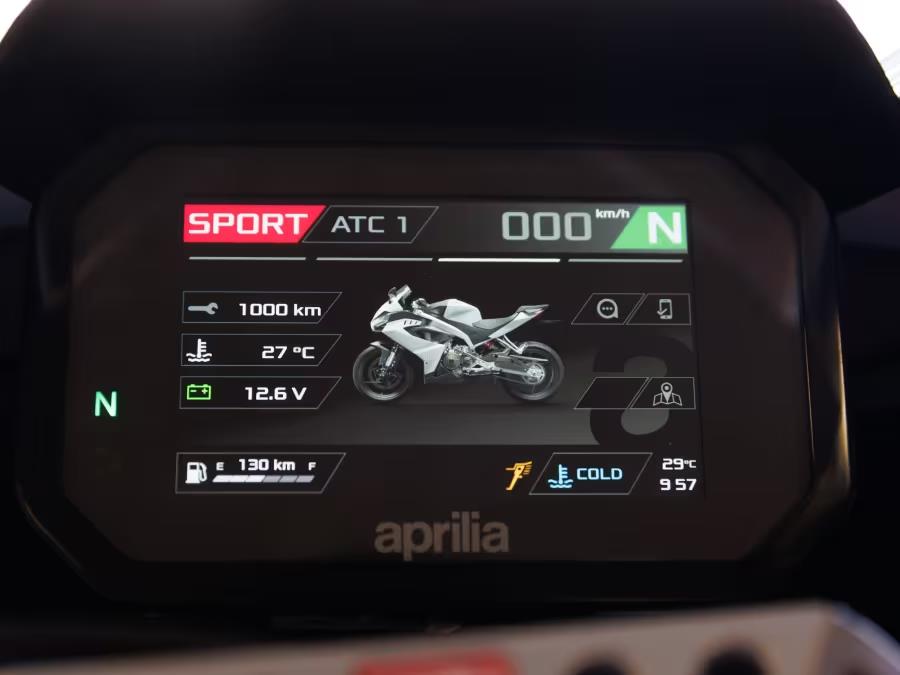 PRICE
When the RS 457 hits the market, it's anticipated to offer a tempting price of roughly Rs 4.25 lakh (ex-showroom). This price point is pretty attractive, especially when you consider all the power and high-tech wizardry it brings to the table.
In fact, it's a serious challenger in the sub-500cc supersport class, giving it a great option for individuals who like exhilarating rides but don't want to spend a fortune.
The sub-500cc supersport motorbike market is poised to be significantly impacted by the Aprilia RS 457.
COMPETITORS
Let's now discuss the other motorcycles that are in the running to challenge the Bajaj Pulsar NS400. It resembles a motorcycle-related gladiatorial duel among various fighters. They are as follows:
R3 Yamaha
Kawasaki Ninja 400
KTM RC 390
GSX-R250
Honda CBR250R
Kawasaki Ninja 300
Ultraviolette F77
Keeway V302C
Riders with various preferences and priorities have a variety of options from performance and style to price and practicality from these rivals. To find the ideal match for your two-wheeled adventures, it's critical to take your individual riding demands and tastes into account when selecting a sportbike like the Aprilia RS457.
CONS AND PROS OF RS457
Pros
Strong Engine: The Aprilia RS457 has a strong engine that produces an enjoyable ride. You may unleash your inner speed devil with its 47 horsepower under the hood.
Design: This sportbike has a stunning design that commands attention. You can ride in both comfort and style thanks to its unique design, which is the ideal fusion of style and aerodynamics.
Tech-savvy: To improve your riding experience, the RS457 is fitted with contemporary technologies, including a 5-inch TFT display that you can customize and optional Bluetooth connectivity.
Flexibility: With three distinct ride modes, the bike's performance can be modified to suit various riding conditions and your personal tastes, making it adaptable for a range of situations.
Safety: Three levels of traction control on the bike help to maintain stability and safety, especially when riding on unpaved surfaces.
Cons
Price: The RS457 offers a fantastic riding experience, but it does come with a price tag of about Rs. 4.25 lakh (ex-showroom), which some riders may find to be on the high side.
Maintenance Costs: High-performance motorcycles frequently require more maintenance and servicing, which over time may result in greater ownership expenses.
Limited Seating: The RS457 is meant for solitary riding; therefore, it might not be the best option if you frequently ride with a passenger.
Fuel Economy: The RS457 may not be the most fuel-efficient vehicle available because of its strong engine, which could affect your operating costs.

The Aprilia RS457, in the end, provides a thrilling and stylish riding experience with superb performance and modern technology. It has expense and maintenance requirements, so prospective purchasers should be informed of it.
CONCLUSION
The Aprilia RS457 is more than just a motorbike; it is a harmonious combination of power, style, and cutting-edge technology that makes for a pleasurable ride. It redefines what it means to ride a bicycle because of its powerful motor, fashionable appearance, and cutting-edge technologies.

Although it may have a specific price and require careful consideration of maintenance costs, the RS457 continues to be a favorite option for fans who want high-speed adventures and wish for a bike that is as brave as they are.

When you start your adventure, keep in mind that the RS457 is more than just a motorcycle; it's an expression of love for the open road and a tribute to the rush of riding. As a result, if you're ready to feel the thrill, the Aprilia RS457 is waiting to welcome you and provide you with endless exhilaration on two wheels.