Mini Cars
Featured Mini Cars
Most Popular Cars by Mini
All Cars By Mini
Categorized Mini Cars by Status
Mini Cooper One
449 views this week
₹ 24,00,000
Mini Cooper Paceman
1144 views this week
₹ 27,00,000 - ₹ 32,00,000
Mini Cars by Body Type
Filter Mini Cars by Body Type
Latest Mini News
Recently Added News
About Mini
Know more about Mini
Toll Free Roadside Assistance Number:
1800-103-2211
Mini is a British automobile marque, owned by BMW since 2000, and used by them for a range of small cars. The original Mini was a line of iconic British small cars manufactured by the British Motor Corporation and its successors. Some of the models are Morris Mini-Minor and the Austin Seven, the Countryman, Moke, 1275GT and Clubman.
Performance versions of these models used the name Cooper, due to a partnership with racing legend John Cooper. The original two-door Mini continued in production until 2000. Development of the apparent began in 1995 and the new generation car was inaugurated in 2001.
The Hardtop/Hatch/Convertible (three-door hatchback), Clubman (estate), Countryman (five-door crossover), Coupe/Roadster and Paceman (three-door crossover based on the Countryman) are the names of cars included in the current Mini range.
It has been more than fuel efficiency that makes MINI a smart choice. This child-like, adventurous spirit prevails in the world of MINI. Remember how you could explore the world without constraints as a child? You couldn't care less about what other people thought because you were too enthralled with each new and exciting discovery. MINI understands the nostalgia adults have for their younger years.
With a scrapbook of playful moments and creative collectibles, MINI defines the Golden Rule of Fun and sells lifestyles defined by freedom, good cheer, and camaraderie. As a Brand Lover or enthusiast, you might take part in MINI Takes the States Tour, traveling across the country with a caravan of MINIs, stopping in different cities, attending special events, and mingling with other members of the MINI Family.
MINI offers 4 new car models in India. Clubman, Cooper Convertible, and Cooper 5 DOOR are among the popular cars from MINI. MINI Cooper 3 DOOR is the lowest priced model at Rs. 29.00 lakh and MINI Clubman is the highest priced model at Rs. 39.40 lakh.
Related Resources
You may like to view
Questions and Answers
Most Popular Answers for Mini
Tell me the Engine Specifications of Mahindra Maxximo Mini Van?
29 December 2022 10:07
Mahindra Maxximo Mini Van comes packed with a 909 cc engine, featuring the CRDe technology.
What are the Technical Specifications of Mini Cooper Paceman?
29 December 2022 09:59
The Mini Cooper Paceman is a compact crossover SUV. It is based on countryman crossover and is the seventh model in the brand's lineup.
When is Mini Going to Launch Cooper Countryman Diesel?
29 December 2022 09:59
The launch of Mini Cooper Countryman diesel variant in India is expected to be somewhere around May 2013.
Which compact mini pick-up truck is better – Tata Ace Zip or Mahindra Jeeto?
29 December 2022 06:01
Mahindra Jeeto is a better option when compared to Tata Ace Zip because it offers more option in terms of performance loading and deck length. The engine is available in two different powers of 11 HP and 16 HP while the torque remains static at 38 Nm. The deck length options range from 5.5 ft, 6 feet and 6.5 feet whereas payload varies between 600 kg and 700 kg. it comes with a price tag of INR 2,31,000 to INR 2,66,000.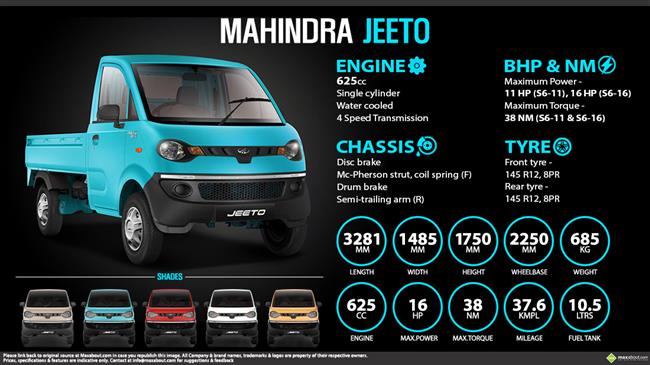 What is the complete price of Mahindra Maxximo Mini Van including permit?
29 December 2022 05:39
The Mahindra Maxximo comes with an ex-showroom price tag of INR 3,09,000 which varies from state to state. The on-road pricing would also vary according to the registration state and the permit value depends upon the type of permit required. you should confirm the prices of all the permit types from the DTO of your city and the on-road price can be confirmed from the nearest Mahindra showroom or the DTO office itself. The mini van comes with a 909 cc 2-cylinder engine producing 24.6 BHP and 55 NM of torque. It comes with front disc brakes and three attractive colors, namely Diamond White, Appy red and School Yellow.
Quick Facts - Mahindra Maxximo Mini Van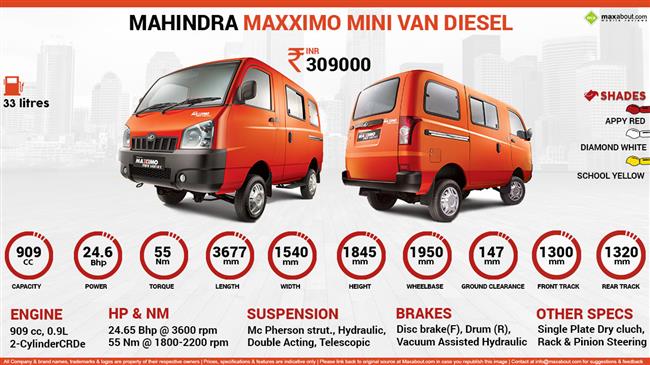 Ask a Question