UM Bikes
Featured UM Bikes
Most Popular Bikes by UM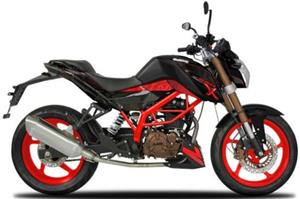 UM Xtreet 250X
34 views this week
₹ 1,20,000
All Bikes By UM
Categorized UM Bikes by Status
UM Bikes by Body Type
Filter UM Bikes by Body Type
Latest UM News
Recently Added News
About UM
Know more about UM
UM or United Motors is an American motorcycle brand that was founded in 2000. The brand presently has 25 export market contacts and more than 1200 outlets all over the world. The brand started with an intention to simplify transport mediums as founder Octavio Villegas dreamt of making things simpler for the masses.
He realized that without innovation, success would be hard to find. This made them more interested in unique designing and you can clarify the fact after giving their American lineup a look through their official website. They deal in various engine segments worldwide, mostly focusing on small displacement units.
They focus primarily on user safety and comfort as class leading features like puncture resistant tyres, 360 degree safety system and ComfortGel seats for added riding feel. UM India is presently not listing its sales figure with SIAM or else one could have got the exact idea where this brand standard after few years of its entry.
Range starts from Duty 230 now as they have launched the same at Auto Expo for INR 1.10 lakh. Earlier, Renegade Sports S was the most affordable UM motorcycle in India. Deliveries for the air cooled 230cc machine will start in coming months.
The 279.5cc, single cylinder, liquid cooled and fuel injected engine on Renegade series is good for 24.8 BHP and 23 Nm. The bike weighs too much for its power and thus, enjoying high speed rides is not a possibility here.
For cruiser specific purposes, UM bikes perform very well with their low seats and comfortable handlebar positions. The smaller 223cc, single cylinder engine on Duty series is good for 17 HP and 17 Nm of torque. UM products rival none other than Royal Enfield bikes in India. With new Duty series, they now even target Bajaj Avenger series.
Related Resources
You may like to view
Questions and Answers
Most Popular Answers for UM
How can I become dealer of UM Motorcycle? I want to get dealership in Vasad Gujarat.
29 December 2022 06:09
How can I buy a UM Renegade Commando in Mumbai as the showroom is in Delhi?
29 December 2022 06:08
UM Renegade Commando will be soon available near Mumbai. The dealership located in Pune is soon going to start the operations and you can buy your Renegade Commando from that location. The new UML bikes look excellent and are powered by 280 cc engine producing 24.8 BHP and 21.8 Nm of torque. They are mated to a 6-speed gearbox while the Commando weighs 172 kg. It claims a top speed of 125 kmph and retails for INR 1,59,000 (ex-showroom Delhi).
When will UM Global launch Duramax in Pune, Maharashtra?
29 December 2022 05:47
The UM Global Duramax will be the one of most interesting bikes from the UM collection. Being a cruiser styled bike, it comes with 125 and 135 cc options, out of which the 135 cc will be the most preferable value for the Indian market. The bike comes with dual tone paint, a classy fuel tank and a very nice set of alloy wheels. It produces 10.57 BHP and 9.7 NM of torque and is expected to be priced at INR 60,000. The bike comes with a raised handle bar, 16 inch rear fat tyre and a typical cruiser pillion backrest, making it a good option in the category. The only drawback will be its low powered engine, which might not worry the Indian riders as it will facilitate better mileage. It will launch somewhere in the mid of 2016 or early 2017. The mileage of the Duramax is expected to be around 55 kmpl.
I need to book a UM Global bike, to whom should I contact?
29 December 2022 05:47
UM Global bikes were showcased at the 2014 Auto Expo and after that, they have got no news for their launch in India. They are bringing in the vehicles for testing purpose, but the whole process will take a lot of time and the brand may also take a lot of time for setting up its dealerships and service centers. I would recommend to go for a more trusted and value for money brand if you need a motorcycle urgently. If you have one with yourself currently, then you can wait for the brand to get in with its new news for the launch of its bike in India. Even after the launch, the smaller bikes would be getting in first, making way for the bigger and better alternates afterwards. You can estimate an easy waiting period of 1 year for the brand settlement and launch.
Has anyone tested UM Renegade bike?
29 December 2022 05:47
UM Global Renegade Commando is the best bike from the UM Global in terms of style and power. It comes with a classic design, resembling much like a battle field bike. Its 223 cc single cylinder engine brings out 18 BHP and 15.5 NM. The bike has never been tested before in Indian and you will not even find any video related to its review on the internet. The only video which shows the bike riding for some 10 meters shows that the bike is quiet good in terms of looks and power values will be tested after its launch in India. It is expected to be here for INR 1,25,000 and will be a rival of Royal Enfield Bullet and Bajaj's Avenger.
Quick Facts about UM Global Renegade Commando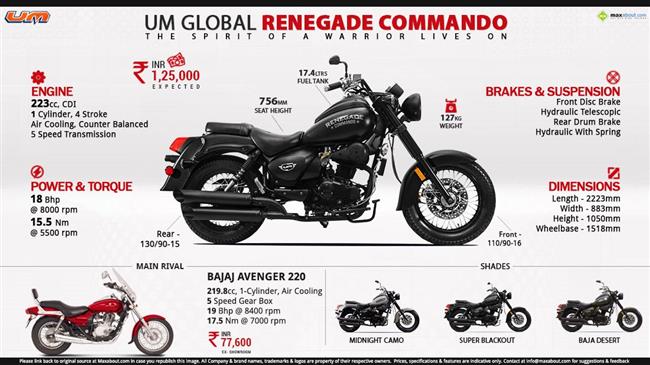 Ask a Question