What is the Waiting Period for Honda CBR150R?
What is the Waiting Period for Honda CBR150R?
Updated On: 23 Jul, 2014
| 4593 views
Honda CBR150R has a waiting period of about one month. The bike resembles much with its sibling CBR250R. The company launched it in India in the first quarter of 2012 and got a sturdy response. It features a sleek aerodynamic design with lot of body panels well proportioned. It comes equipped with a digital speedometer, coined with analogue tachometer. The instrument console contains a number of LED indicators.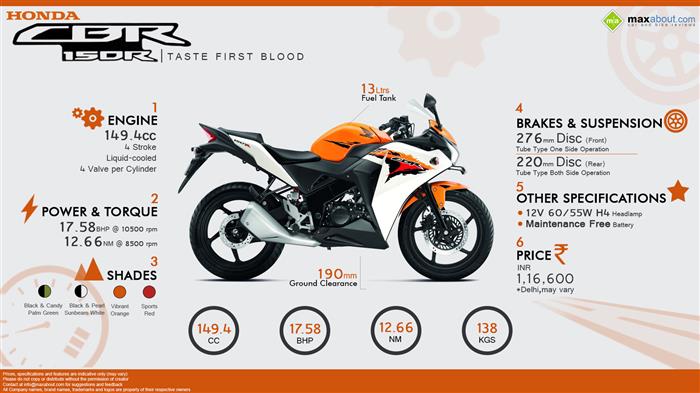 Honda CBR150R comes powered with a 4-stroke DOHC, 4 valve engine with a displacement capacity of 150 cc. The engine has the capacity to release a maximum power of 17.58 bhp at 10500 rpm along with a torque production of 12.66 [email protected] rpm. It features the fuel injection technology and delivers excellent outputs.
The mighty cockpit comes mated with a 6-speed manual transmission gearbox with five up and one down pattern. The sporty bike takes just a short span of 12 seconds to get to 100km/h from standstill and is claimed to have a top speed of 132 km/h. It delivers an excellent mileage of 32 km/l on the crowded city roads. And on highways it gives a mileage of 45 kmph.
This bike requires a lot of maintenance but its exclusive design make it stand aside from the crowd. Honda CBR150R's instrument console boasts a digital speedometer and analogue tachometer, odometer and fuel gauge. It has got a length of 2000mm, a width of 825mm, a height of 1120mm with a kerb weight of 138 kg. The bike's fuel tank capacity is 13 litres. It has a ground clearance of 190mm and wheelbase stands at 1305mm.
The sports bike is available in 2 shades like Sports Red with Pearl Sunbeam White and Black with Pearl Sunbeam White. The price range starts from Rs. 1,17,300 - Rs. 1,18,300. Yamaha R15 is a main competitor of this sporty bike and is somewhat different in terms of design, style and features.
Deals of the Day
Best Offers of the Day on Online Stores
Media Resources
Links to Most Popular Images and Videos