Volvo XC90 Production Starts in India:
A moment of joy came alive for luxury car lovers of India when Swedish car manufacturer Volvo rolled out their first locally assembled XC90 near Bangalore. They entered more than a decade ago but took a lot more time than others to enter the localization route of car sales in India. The diesel variant of
XC90
will now be assembled in India while plug-in hybrid will stay a CBU. They will soon look out for local assembly option on their S90 sedan and all-new XC60. Volvo plans to double their market share by 2020 and this move is quite positive as a first step towards their goal. [caption id="attachment_156605" align="aligncenter" width="936"]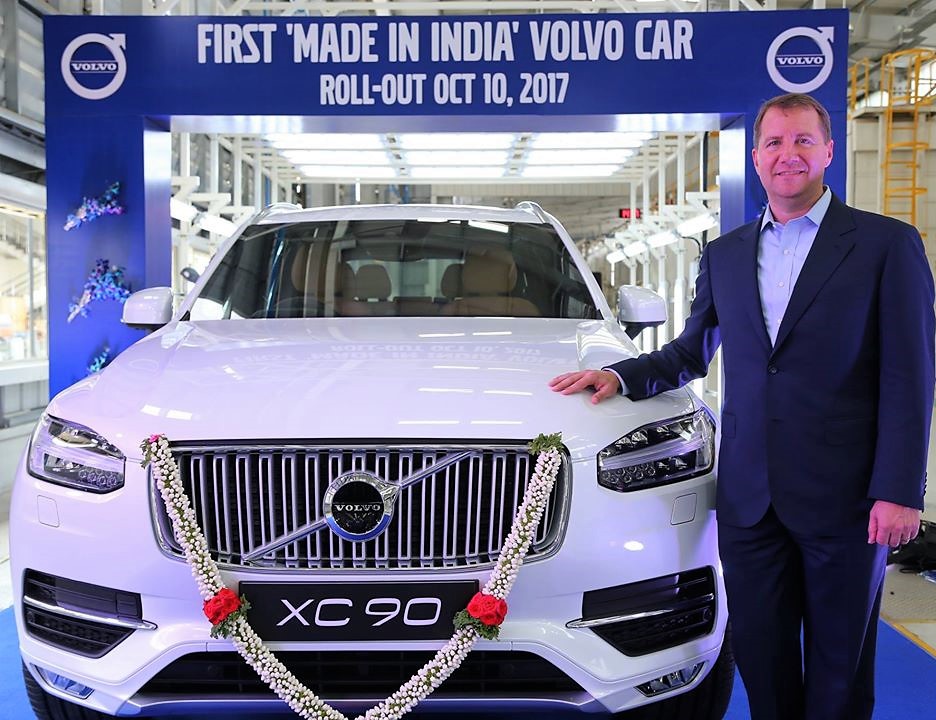 Volvo XC90 Production Starts in India[/caption]
"It's a moment of great pride for all of us at Volvo Cars",
said Charles Frump, the newly appointed Managing Director for Volvo Auto India.
"The roll-out of first locally assembled Volvo Car speaks volumes for the company's commitment to grow further in India. The last three years have been good for us in India and we noticed a positive and encouraging growth in terms of increased segment share, world-class product and new dealer appointments.With global standards in quality, we are a formidable luxury car company in India and on-track to gain a bigger share of the segment."
About Volvo Auto India
Swedish luxury car company Volvo Auto India (VAI) established its presence in India in 2007 and has since then, worked intensively to market the Swedish brand in this country. Volvo Cars currently markets products through its dealerships in South Delhi, West Delhi, Gurgaon, Ahmedabad, Surat, Mumbai, Chandigarh, Coimbatore, Hyderabad, Chennai, Bangalore, Kochi, Vishakhapatnam, Kolkata, Vijayawada, Jaipur, Pune and Lucknow. Opening soon in Calicut.
Volvo Sells 10 Luxury Models in India
S60: A sporty sedan
S60 Cross Country: All road. All weather sedan
S60 Polestar: A performance sedan
V40: Luxury hatchback
V40 Cross Country: The adventurous cross country
XC60: A technologically advanced luxury SUV, apt for Indian roads
XC90: The most awarded 7-Seater Luxury SUV
XC90 Excellence: India's first plug-in hybrid SUV
S90: The Swedish luxury sedan
V90 Cross Country: The Get Away Car