Traveling may be a hectic task for some of us but for this Chandigarh couple (Prabhsimran Singh and Jasleen Kaur), the limits were erased a long time back after they left Chandigarh in their Volvo SUV. Unlike a regular traveler who would have planned a road trip to Jaipur or Agra, they went to England and completed their one-sided journey in 73 days. It took them 20,600 kilometers of the total drive to reach their destination. The road route crosses through 19 countries and thus, brought them a unique experience that one cannot expect when traveling within a single country. The purpose of travel was their desire to visit Sikh temples (Gurdwara) all around the world. [caption id="attachment_232413" align="aligncenter" width="849"]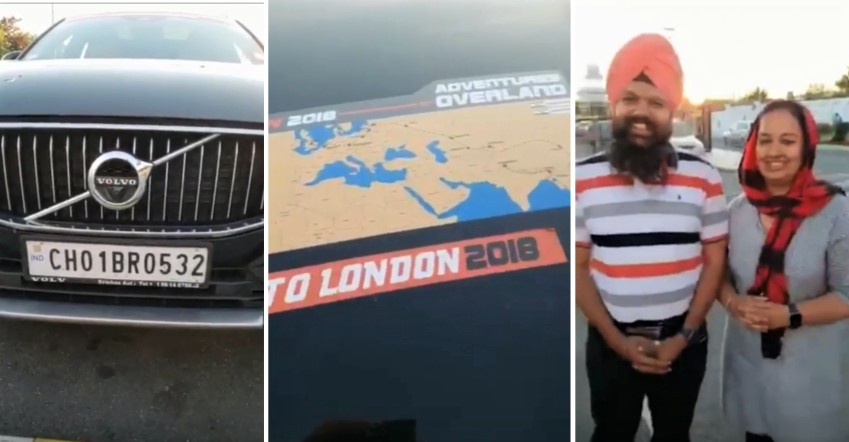 Chandigarh-to-England Road Trip: 20,600 kms in 73 Days in a Volvo SUV[/caption] The video went viral when people from England spotted a car carrying Chandigarh registered number plate. They first thought this to be a prank but soon realized that the couple had actually traveled this long distance to visit the UK in their car. The route would have been a tough one with climatic, language and other barriers but Prabhsimran Singh explains this an amazing experience. He also cleared that Sikhs from these countries helped them in the completion of their target as those living in different countries understood the language and helped them move ahead without any problem. https://www.youtube.com/watch?v=9Aw-9zFpiE0 The car,
Volvo XC90
, is an amazing partner for this intercontinental drive. It comes with a 1969 cc, four-cylinder diesel engine that may sound small of paper but produces 235 HP at 4000 rpm and 480 Nm at 1750 rpm. The output is a result of twin turbochargers as most engines of this size use a single one to produce a much lower power value. The engine comes mated to an 8-speed automatic gearbox. Measuring 4950 mm in length, the Volvo XC90 would have helped them carry all their needs in the boot and rear seat area.