Seat Cars
Featured Seat Cars
Most Popular Cars by Seat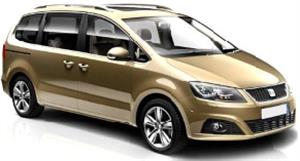 Seat Alhambra MPV
17 views this week
₹ 16,00,000
All Cars By Seat
Categorized Seat Cars by Status
Latest Seat News
Recently Added News
About Seat
Know more about Seat
SEAT is a Spanish automobile manufacturer Company and founded on May 9, 1950 by the Instituto Nacional de Industria that is INI who is a state-owned industrial holding company. This is currently a wholly owned subsidiary of the German Volkswagen Group as a member of the Audi Brand Group that is together with Audi and Lamborghini. The SEAT brand itself has been developed as a group with subsidiary companies and SEAT as the parent company. The headquarters of SEAT are located at SEAT's industrial complex in the Martorell near Barcelona, Spain. With 3-quarters of the annual production being exported to over seventy countries worldwide. The name SEAT, previously standing for the acronym Sociedad Española de Automóviles de Turismo that is a Spanish Touring Car Company, in English in the year 1990 was changed to SEAT.
Related Resources
You may like to view
Questions and Answers
Most Popular Answers for Seat
Can anyone suggest to modify my scooter Honda Cliq? Want the seat height shorter for a comfortable ride.
13 January 2023 11:22
As far as modifying the Honda Cliq goes, it is possible to lower the seat height for a more comfortable ride. This can be done by adjusting the suspension components, such as the shock absorbers, to lower the seat height. Additionally, you can also install lowering links to reduce the seat height. However, it is important to note that lowering the seat height can reduce the ground clearance of the scooter and may also affect the handling and performance of the vehicle. Therefore, it is best to consult a professional mechanic before making any modifications.
What is the seat type of Aprilia RS250?
04 January 2023 09:56
The Aprilia RS250 features a comfortable, aerodynamic seat that is designed to maximize rider comfort. The seat features an adjustable height, allowing riders of all sizes to find the perfect fit. Additionally, the seat is made from a durable, high-quality material that can withstand the rigors of the road.
Q. What is the seat height of Jawa 42 Bobber?
03 January 2023 10:33
The seat height of Jawa 42 Bobber is 780 mm. This comfortable height makes it easy to manage and also provides a great riding experience. The seating position is perfectly suited for both city and highway riding.
What is the seat height of Bajaj CT100?
03 January 2023 05:19
The seat height of the Bajaj CT100 is 765 mm, which makes it a comfortable ride for both tall and short riders. The bike also has an adjustable rear suspension to ensure a smooth ride even on rough roads.
What is the seat height of Honda Shine?
03 January 2023 05:18
The seat height of the Honda Shine is 790 mm. It has a comfortable riding position that is suitable for long rides. It also features adjustable levers for rider comfort.
Ask a Question