One Electric Bikes
Featured One Electric Bikes
Most Popular Bikes by One Electric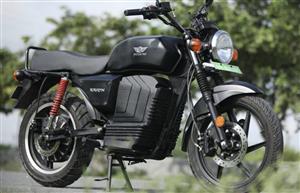 One Electric KRIDN
1952 views this week
₹ 1,29,000
All Bikes By One Electric
Categorized One Electric Bikes by Status
One Electric Bikes by Body Type
Filter One Electric Bikes by Body Type
Latest One Electric News
Recently Added News
One Electric KRIDN Motorcycle Announced; Launch in March 2020
Wednesday, 29 January 2020 0:00 AM
About One Electric
Know more about One Electric
The company has been offering various electric bikes since the last decade. The company is known for their One Electric Bike, which is a bicycle that has an electric motor to help the rider go up hills and make long commutes easier.
The company also offers other types of bikes like cargo bikes, e-bikes, folding bikes, and more. One Electric Bikes Company is a company that specializes in providing high-quality electric bikes for a wide range of customers. The bikes are designed for those looking for an eco-friendly and affordable alternative to traditional vehicles. They strive to provide our customers with the highest quality electric bikes that are built to last.
They offer a wide range of models, from mountain bikes to city cruisers, so you can find the perfect bike for your needs. Their team is always on hand to provide advice and support, so you can be sure you are getting the best bike for your needs.
One Electric Bikes Company is a revolutionary transportation solution that combines the convenience of a bike with the power of electricity. With the ability to travel up to 40 miles on a single charge, electric bikes are a great way to get around town and explore the countryside. Plus, they're eco-friendly and can be charged up in minutes at home or in public charging stations. Whether you're looking for a way to reduce your carbon footprint or just want to enjoy the thrill of zipping around town on a bike, electric bikes are the perfect solution.
Related Resources
You may like to view
Questions and Answers
Be the first one to ask a question about One Electric
Ask a Question