What are the Specifications of Piaggio Vespa 946?
What are the Specifications of Piaggio Vespa 946?
Updated On: 23 Jul, 2014
| 1453 views
Piaggio Vespa 946 comes powered by a 3 valve single potted engine which features the fuel injection system and has a displacement capacity of 154.8 cc. It delivers a decent power of 12.9 Bhp @8000 rpm and a peak torque of 12.8 [email protected] rpm. There's another displacement option available which stands at 125cc, single cylinder, 3-valve, air-cooled, 4-stroke engine releases 11.7 bhp of maximum power and 10.3 Nm of maximum torque. Both the engines have fuel injection system and offers superb performance and low NVH (Noise, Vibration and Harshness). It has disk brakes at both front and rear wheels. The scooter has disk brakes at both front and back wheels. It has a good handling and ride quality.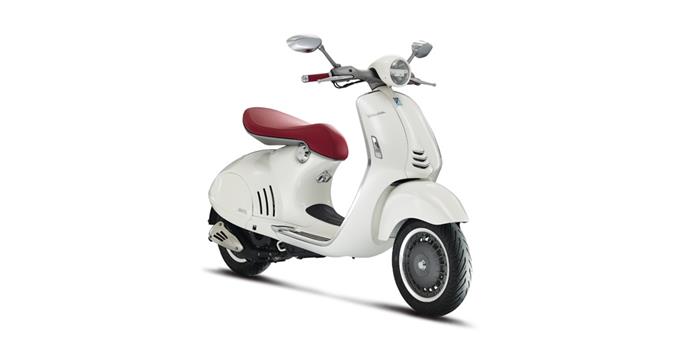 The dimensions of the scooter are measured as 1965.00x730.00mm and wheelbase stands at 1405mm. The instrument panel features a light blue black-lit display LCD display with speedometer, 2 trip meters, digital fuel gauge, low battery indicator and a low fuel indicator. Traction Control, ABS and disc brakes fitted both in the front and at rear, are the plus points. Piaggio Vespa 946 is made available in two retro shades, White and Black. The automatic scooter now comes with an attractive floating seat which is nicely built and is much comfortable. The sporty LED headlamps in the front offers clear visibility on the roads. The design is very eye catchy and will surely lure the Indian customers. The digital instrument console is a new add-on and its mileage is ARAI certified. It is expected to be launched at a price of Rs. 8,00,000.
Overall, Piaggio Vespa 946 is loaded with stylish and advanced safety features that will surely allure the buyers with its futuristic design. But due to its high price people can skip this option but those who don't give much priority to money they will surely go with this scooter.
Deals of the Day
Best Offers of the Day on Online Stores
Item
Seller
Price
Blackberry 9900 Bold 4 (Black)

₹ 31,999

69 % off

₹ 9,990

View
Apple iPhone 4S 8 GB (Black)
PaytmEffective-IN

₹ 39,999

69 % off

₹ 12,325

View
Apple iPhone 4s - 32 GB

₹ 48,500

69 % off

₹ 14,990

View
Sony Xperia Z Ultra (White)
PaytmEffective-IN

₹ 42,999

69 % off

₹ 13,290

View
Apple iPhone 4S 8 GB (White)
PaytmEffective-IN

₹ 39,999

69 % off

₹ 12,299

View