Carberry Bikes
Featured Carberry Bikes
Most Popular Bikes by Carberry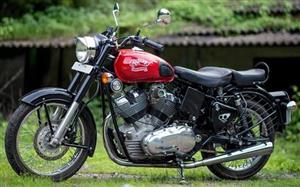 Carberry Double Barrel 1000
1859 views this week
₹ 7,35,000
All Bikes By Carberry
Categorized Carberry Bikes by Status
Carberry Bikes by Body Type
Filter Carberry Bikes by Body Type
Latest Carberry News
Recently Added News
About Carberry
Know more about Carberry
Carberry Motorcycles deals in handbuilt motorcycles with Royal Enfield inspired body design and part sharing with the vintage brand. The production was halted in 2011 in Australia while brand resurrection started in 2017.
Paul Carberry and Jaspreet Singh Bhatia has formed Dream Engines and Manufacturers to bring Carberry Double Barrel to India. It uses two 499cc Royal Enfield engines that are combined to get an actual output of a liter class V-Twin engine.
The long 90mm stroke offers smooth low end torque, impressive exhaust note and minimum vibrations. The engine comes with UCE cylinder heads and 5-speed gearbox as standard.
This huge motor costs INR 4.96 lakh while a complete motorcycle from Carberry will cost INR 7.35 lakh. The cost brings all new high strength frame, 7 plate clutch and high strength chain mechanism. The example built in Australia before 2011 are successfully running without any major hassle.
This makes the fact clear that reliability won't be an issue on 1000cc V-Twin Double Barrel. They have no direct relation to Royal Enfield while their older bikes were sold with a moniker of Carberry Enfield as they have an official part sharing license with Royal Enfield motorcycles globally.
The engine used here is good for 52.2 HP and 82 Nm of massive torque, perfectly synchronizing the power of two engines into one without getting any loss. If a standard cruiser is not your type, buying just the engine and putting it inside another body type is also a possibility from Carberry.
They demand 50% of deposit at the time booking and rest 50% is paid on delivery. This applies to both the engine as well as the bike. It rivals none other than Triumph Street Twin in this segment as both are using almost the same displacement and price tag for India.
Related Resources
You may like to view
Questions and Answers
Be the first one to ask a question about Carberry
Ask a Question