What is the Fuel Tank Capacity of Kawasaki Ninja 300?
What is the Fuel Tank Capacity of Kawasaki Ninja 300?
Updated On: 26 Jun, 2014
| 5034 views
Kawasaki Ninja 300 carries a fuel tank capacity of 17.03 liters.
The bike has been built over semi-double cradle type chassis, and offers as much as 1.5 times better rigidity and agility than its predecessors. The dimensions of the vehicle are 2015x715x1110 mm and weighs about 172 Kg. Having a large wheelbase of 1405 mm, it has a low seat height of 785 mm. The instrument cluster is very intelligently designed and besides this, it also features an Economical Riding Indicator, which makes the driver aware of the fuel saving practices.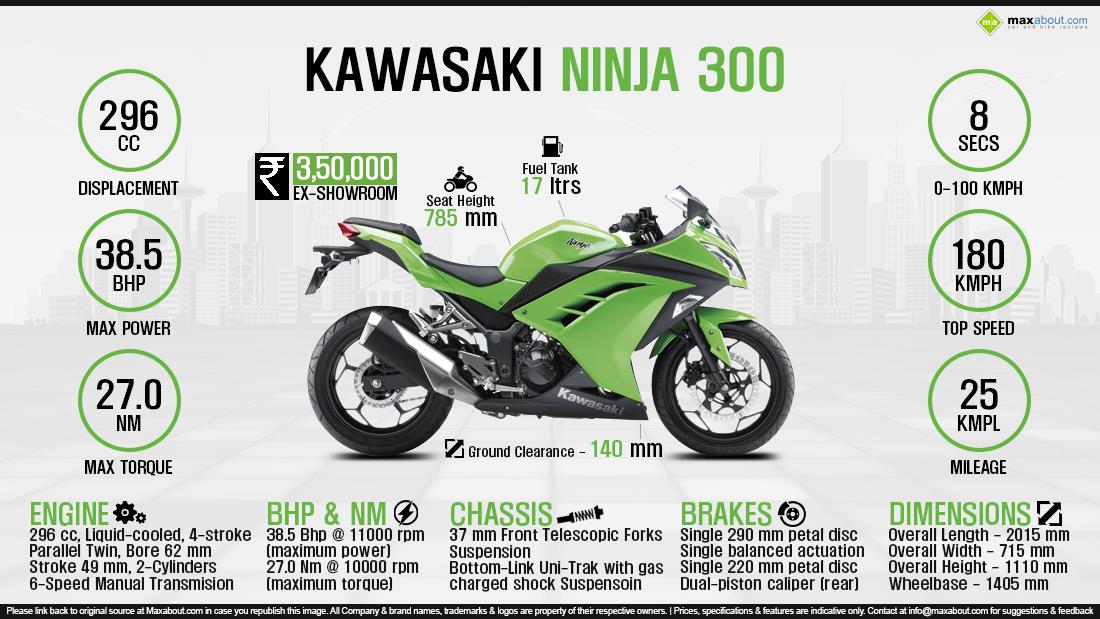 The bike sports a new exhaust and is characterized by a new aerodynamic bodywork. The wheels are thicker and are 17" ones with 10 spoke wheels. It comes packed with a 296 cc liquid cooled engine, with a peak torque delivery of 27 Nm at the rate of 10,000 rpm. It comes cleverly mated with a 6-speed gearbox, for a buttery gearshift and up to the mark performance. Kawasaki Ninja 300 grabs in single petal disc brakes which re much effective and deliver a quick and perfect braking action. Its highly pricey but has charismatic looks and a powerful high performance engine bestowed into it.
Deals of the Day
Best Offers of the Day on Online Stores
Item
Seller
Price
Apple iPhone 4s - 32 GB

₹ 48,500

69 % off

₹ 14,990

View
Blackberry 9900 Bold 4 (Black)

₹ 31,999

69 % off

₹ 9,990

View
Speedwav 3 Pipe Bike Air Pressure Horn-Kawasaki Nin...

₹ 2,500

50 % off

₹ 1,248

View
Apple iPhone 4S 8 GB (White)
PaytmEffective-IN

₹ 39,999

69 % off

₹ 12,299

View
Apple iPhone 4S 8 GB (Black)
PaytmEffective-IN

₹ 39,999

69 % off

₹ 12,325

View
Media Resources
Links to Most Popular Images and Videos