What is the Fuel Tank Capacity of Honda Activa?
What is the Fuel Tank Capacity of Honda Activa?
Updated On: 23 Jul, 2014
| 9437 views
Honda Activa carries a fuel tank capacity of 5.3 liters, that's more than enough for city purposes. The all new incarnated Activa comes fitted with an air cooled 4 stroke 109cc engine which belts out a peak power of 8 [email protected] rpm and an acceptable torque of 8.74 Nm at the rate of mere 5500 rpm. It has v-matic four-speed transmission.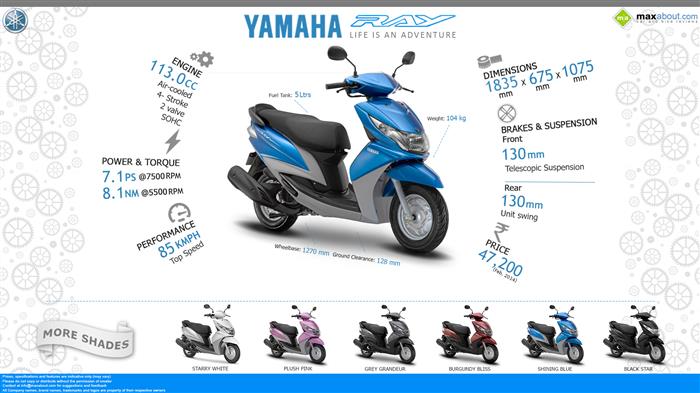 It is available in a range of soothing shades including Grey, Black, Red, White and Purple. It comes with a length of 1761.00 mm, a width of 710.00 mm and a height of 1147.00 mm. The kerb weight of the gearless scooter is 110 kg. The suspension system is well designed and performs well on the surface of ordinary roads. It comprises competent shock absorbers on the front and rear tyres. The front tyres feature a bottom link suspension with spring-loaded hydraulic dampers. On the other hand, the back tyres have unit link with spring-loaded hydraulic dampers.
The scooter offers you a much bigger glove box to keep few handy things. It offers you a best-in-class mileage of 60 km/l under standard conditions. It features a Convenient Lift up cover which lifts the rear body to keep the maintenance easier. It comes fitted with a Viscous Air Filter which requires much low maintenance. Its wheelbase is kept 1238 mm long and its ground clearance is as much as 153 mm high. The chassis is rigid and much resistant to collisions.
Honda Activa comes equipped with both front and rear drum brakes which offer an efficient braking system. The tyres fitted are tubeless and the shades available are much eye soothing. All in all, its a good and economical scooter for every age group. It comes in a price range of Rs. 42,998 - Rs. 58,000. Overall, it is a high quality scooter with appealing design and adequate storage space.
Deals of the Day
Best Offers of the Day on Online Stores
Media Resources
Links to Most Popular Images and Videos