The Volvo C40 Recharge isn't your normal automobile; it serves as a kind of futuristic vision of what opulent electric vehicles (EVs) might look like in the future. Let's examine why it is a futuristic ride that should be experienced rather than just another vehicle. You'll discover as we go further that it's not only about going from point A to point B, it's about striking the ideal balance between looking cool, safeguarding the environment, and putting on a great performance. Consequently, if you enjoy driving and grabbing people's attention, especially during the holidays, this car is ideal for you.

NO MORE CHARGING WORRIES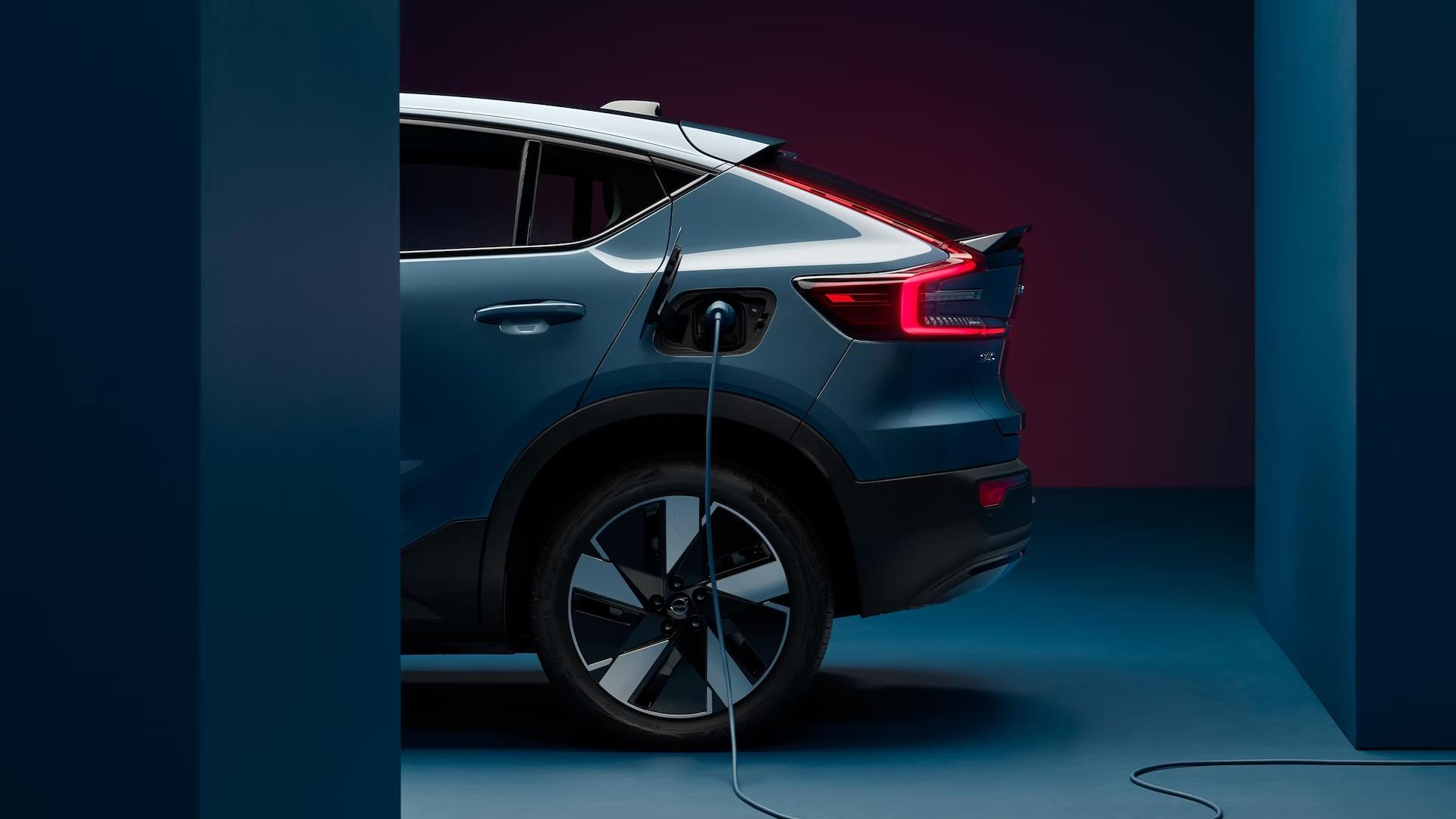 Let's dive into one of the standout features of the Volvo C40 Recharge that sets it apart in the world of electric vehicles (EVs) – its impressive range and charging capabilities.
1. The Power Behind the Range
The C40 Recharge is equipped with a substantial 78kWh battery pack, which is similar to its sibling, the XC40 Recharge. Its outstanding range and recharge capabilities are built on this huge battery capacity.
2. Impressive Range
The key figure that often concerns potential EV buyers is the vehicle's range – how far it can travel on a single charge. With a range of up to 530 km according to WLTP, the C40 Recharge excels in this regard. In addition to being competitive, this range also presents many potential range anxiety difficulties. With a range of up to 530 km according to WLTP, the C40 Recharge excels in this regard. This range eliminates several potential range anxiety issues in addition to being competitive.

Practically speaking, this range translates to the ability to comfortably go out on extended adventures, even those out-of-town road trips, without continuously stressing about coming across charging stations along the way. Comparable to classic internal combustion engine automobiles, it offers a feeling of independence.
3. Addressing Range Anxiety
Range anxiety is a common concern among EV owners or those considering making the switch to electric. It's the worry that you won't have enough battery life to get where you're going, especially on long trips when access to charging facilities can be limited.

With the remarkable range of the C40 Recharge, Volvo has significantly reduced this concern. It's the worry that you won't have enough battery life to get there, especially on long trips. You may drive with confidence knowing that you won't be stuck on the side of the road due to a dead battery.
Instead, you can concentrate on having fun while driving since you know that the C40 Recharge has the capability to get you where you need to go.
4. Charging Convenience
Moreover, the C40 Recharge doesn't just excel in terms of range; it also offers convenient charging solutions.In the world of electric cars, it can charge super fast with 150kW charging. This means you can get your battery ready in a hurry when needed.
To put this into perspective, the C40 Recharge can recharge the battery from 10 to 80 percent in just 27 minutes when utilizing a 150kW charger.
This really quick charging capability is quite helpful when you're in a rush or on a long vacation.
The Volvo C40 Recharge is an excellent option for both short journeys and lengthy vacations because of its exceptional range and quick charging.


A VISION OF LIGHT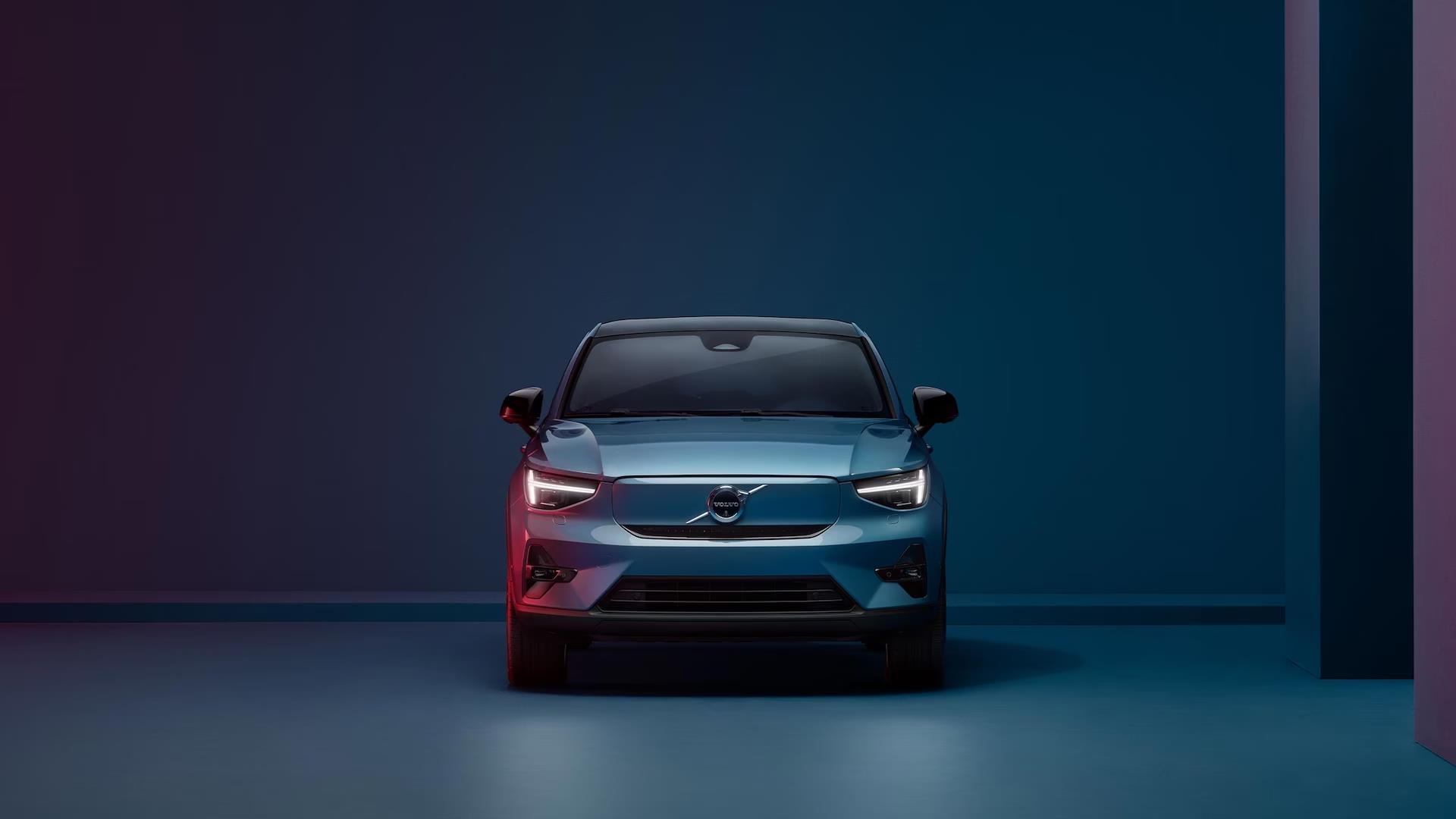 Moving on to style and security, Volvo has given the C40 Recharge headlamps that use cutting-edge pixel light technology.Let's look at how the C40 Recharge's beautiful lighting system from Volvo improves driving safety and style.
1. Advanced Lighting Technology
Volvo has made a substantial improvement to the C40 Recharge's lighting system. In the headlights, "pixel light technology" has been implemented. This isn't your typical lighting; it's modern and intelligent.
2. The recognizable "Thor's Hammer"-shaped LED
Daytime Running Lights (DRLs) can be seen on the front of the vehicle. These serve an important purpose and are not only decorative. They make the car safer by increasing its visibility throughout the day and making it more recognizable.
3. The Marvel of LED Pixels
Now, let's talk about the 84 LED pixels in each headlamp unit, which are the true stars of the show. These little but mighty pixels perform a crucial function. Even on the darkest nights, you can see well thanks to their excellent illumination of the road.
4. High-Beam Assist
There's more, hold on. These LED pixels do more than just illuminate the road. They possess a feature known as "high-beam assist." It implies that the direction and intensity of the headlights can be altered automatically. With the help of this innovative function, you may drive at night with superb visibility without blinding other cars in traffic.
5. Safety Meets Style
So, it's not just about looking cool with those Thor's Hammer lights or having bright headlights. It all comes down to ensuring that your nighttime travels are safer for you and other road users. With these advanced lights, Volvo has perfectly combined safety and style in one smart package. It's a win-win – you get to drive in a stylish car while knowing you're also driving in one of the safest ones out there.

To put it simply, Volvo's pixel light technology in the C40 Recharge isn't just a nice touch; it completely transforms your nighttime driving. It's like having a personal lighting assistant that ensures you see well without ever blinding anyone else on the road. Safety and style, work hand in hand.

ECO-FRIENDLY INTERIOR

Let's look at how the interior of the Volvo C40 Recharge combines style with environmental awareness.
1. Luxury without leather
Volvo has accomplished something truly amazing. The entire C40 Recharge cabin is now entirely "leather-free." This means that there is no leather inside the car that is made from animals. Significant progress has been made in sustainability, and the C40 Recharge is the first Volvo vehicle to take this stand.

2. Personalization Options
However, becoming green doesn't mean giving up choice or flair. Volvo really takes things a step further. They provide a wide range of different colors and design options for this model. Therefore, adopting a leather-free interior not only saves the environment but also allows you to customize your driving experience to your preferences. It's similar to personalizing your car to reflect your personal tastes.


3. A Green Contribution
You're making a green contribution by selecting the C40 Recharge with its interior free of leather and personalized extras.

In summary, the C40 Recharge's eco-friendly interior is about more than just being kind to the environment and animals; it's also about expressing your unique style while having a positive impact. You benefit as well as the environment, and it demonstrates how luxury and responsibility can coexist.


STAY CONNECTED, SEAMLESSLY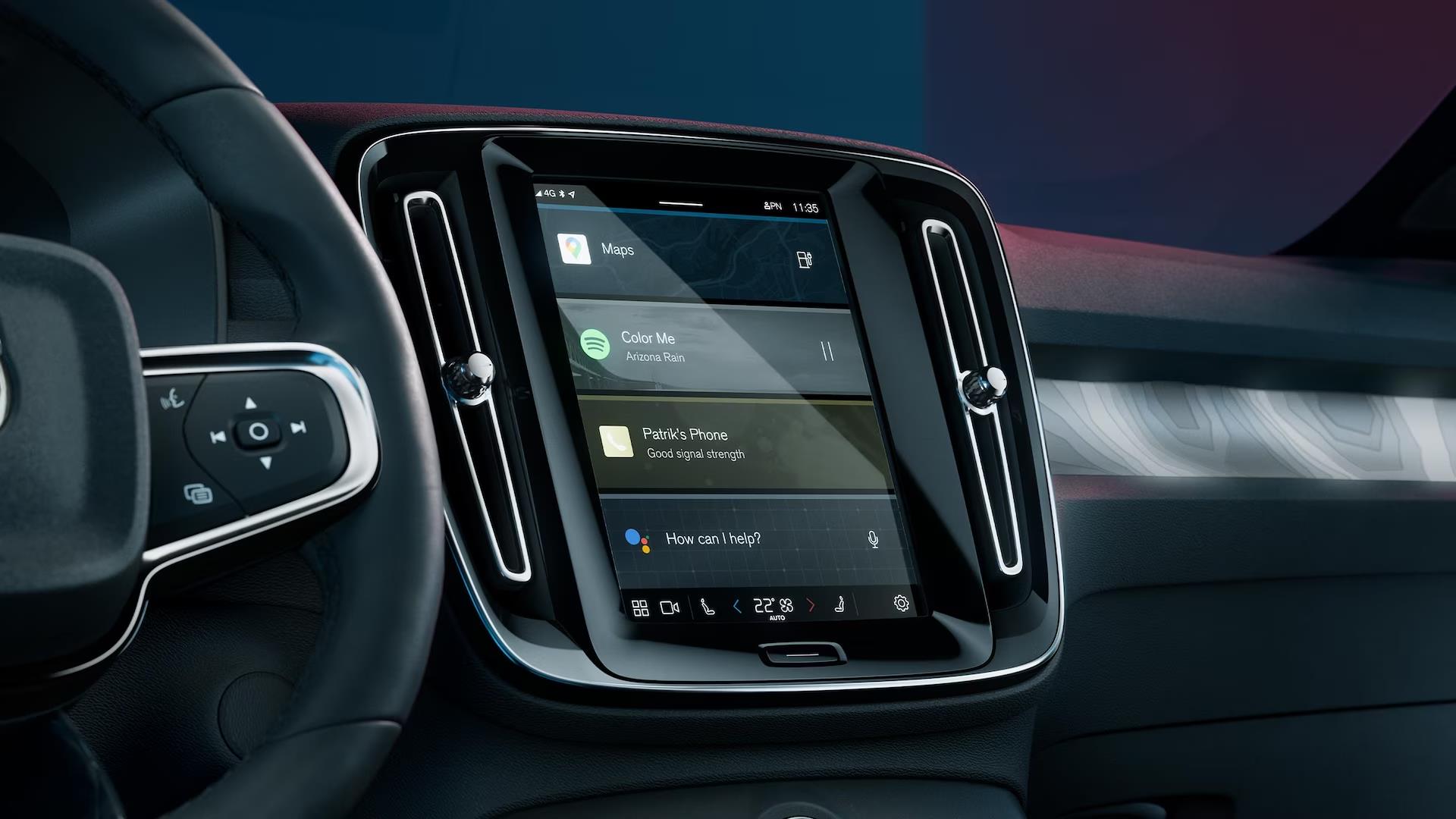 For those who like to stay connected while on the move, Volvo has you covered. All of its latest models, including the C40 Recharge, come equipped with Google's in-built services. You can easily link your smartphone to the touchscreen in this way using this integration, giving you access to a number of Google services like Google Maps and Google Assistant.
You can also explore a wide array of native Google apps through the system's Play Store integration.
Let's see how Volvo's C40 Recharge keeps you linked in an effortless manner to improve your driving experience.
1. Google Integration
Imagine having the power of Google right at your fingertips while driving. Well, with the C40 Recharge, you get just that. Volvo's most recent models, including this one, incorporate Google's built-in services.
2. Pair Your Smartphone
The touchscreen in your car can easily be connected to your smartphone using this feature. It only requires that your phone be paired. Once connected, an infinite number of opportunities become available.
3. Google Services at Your Command
Now, you have direct access to various Google services. You can get up-to-date turn-by-turn guidance right there on the touchscreen, thanks to Google Maps. Want to place a call or send a message hands-free? You've got Google Assistant to help you out. It's like having your very own digital assistant right in your car.
4. A World of Apps
But it doesn't stop there. You can explore a wide range of native Google apps through the car's system. The touchscreen in their car can be used to visit the Google Play Store just like you would do on a smartphone. This entails that you may use apps like Spotify that you can download and install to listen to your favorite music without your phone.
5. A Smarter Drive
In a nutshell, the C40 Recharge takes your driving experience to a whole new level of smartness. You can keep your attention on the road while maintaining constant access to everything you need since it keeps you effortlessly connected to the digital world. Whether it's navigation, making calls, or enjoying your favorite apps, it's all at your command with the power of Google. Therefore, this Volvo has you covered if you value being connected.

AN AUDIOPHILE'S DREAM
A trip can be made or broken by the music. Let's talk about how the C40 Recharge makes every drive feel like a live performance.
1. Premium Sound Upgrade
You know how important music is during a road trip or even just your daily commute. Volvo is fully aware of this, which is why they provide something unique for music enthusiasts. Although it's an optional improvement, it's revolutionary.
2. Harman Kardon's Finest
Volvo partners with Harman Kardon, a renowned name in the world of premium audio systems. The 600W digital amplifier they offer is like owning a powerhouse for your music. This amplifier is paired with 13 speakers, and they're not just any speakers; they include an air-ventilated subwoofer. Your music sounds absolutely immersive just because of this subwoofer, which brings those powerful bass notes to life.
3. Crystal Clear Audio
Imagine hearing every note, every instrument, and every vocal with absolute clarity. That's what the C40 Recharge's audio system delivers. It makes sure that every auditory element, no matter how minute, is crystal clear, ensuring that you never miss a beat of your favorite song.
4. Dirac Unison Tuning
Now, here's where it gets really special. Volvo uses something called 'Dirac Unison Tuning.' It's like having a professional sound engineer on board. The performance of each speaker individually and the system as a whole is optimized by this technique. The outcome?
Your drive becomes a symphony on wheels, where every instrument and voice shines.
5. The Perfect Soundtrack
So, whether you're into classical music with its intricate melodies or you love your rock and roll with thundering guitar riffs, the C40 Recharge's audio system ensures that your music sounds as it should - glorious. It's like having a private concert hall right in your car.
This Volvo is therefore an audiophile's dream come true.

A PANORAMIC VIEW


The Volvo C40 Recharge's roof is a full panorama window with tinted glass that shields passengers from harsh light, heat, and ultraviolet rays. You are adequately protected from glare and UV rays by the laminated and tinted glass that is included with the fixed panoramic roof as standard.Let's talk about the C40 Recharge's outstanding roof and how it elevates your driving experience to a whole new level.

1. Vast Open Spaces
Picture a ceiling that acts as a huge window to the outside world. You receive just that when you purchase a Volvo C40 Recharge. Its roof is a panoramic window constructed of special colored glass, not just an ordinary roof. This glass acts as a screen to protect you from excessive sunshine, heat, and dangerous UV rays.
2. Protection from the Sun
This roof's typical design includes laminated, tinted glass. That's just a fancy way of expressing that it would be similar to driving while wearing sunglasses. It blocks the glaring sunbeams so that you don't experience them while driving.
3. A Roomy Feeling
This is when things start to become really fantastic. Just because of its massive canopy, it appears to be rather spacious inside. The cabin is still light and cozy even when the sun is shining brightly outside. It is comparable to bringing the outside inside without the heat and glare.
4. An Improved Drive
Why is this crucial? Making the correct viewpoint is just as important as how someone looks. Your travel will be more enjoyable if it seems like you are in a large open area. Even if you are only going to the grocery store, it nearly feels like a wonderful drive.

So, the roof of the C40 Recharge isn't just a roof; it's a panoramic experience. It keeps you cozy, protects you from the sun, and gives your automobile a sanctuary-like atmosphere. Your driving experience will be considerably improved by this feature in unexpected ways. This roof gives every drive—whether you're on vacation or just running errands—a little bit of magic.

CONCLUSION
The Volvo C40 Recharge isn't simply another high-end EV, to sum up. It's a fashion statement, an effort to protect the environment, and evidence of Volvo's commitment to innovation. The C40 Recharge from Volvo does live up to the genuine standards of what makes a Volvo car, while also adding some intriguing flavor. It even has a decent-sized boot for a small family getaway and of course ample performance and technology – all while keeping the animals and environment around it happy. You'll even have a rather unique-looking vehicle, given that the C40 Recharge has no immediate rivals in the country. So your search for a stylish, feature-packed luxury EV ends with the Volvo C40 Recharge.