Yamaha RD200 is an ultra-exclusive product with elements that are perfect for a retro-modern motorcycle. The balanced design, 1970s charm, and chrome design elements are unmistakably exclusive to the RD200. It was sold before the birth of RX100 and thus, design derivatives are seen in the most popular lightweight Yamaha retro model. Here are five quick facts about the Yamaha RD200.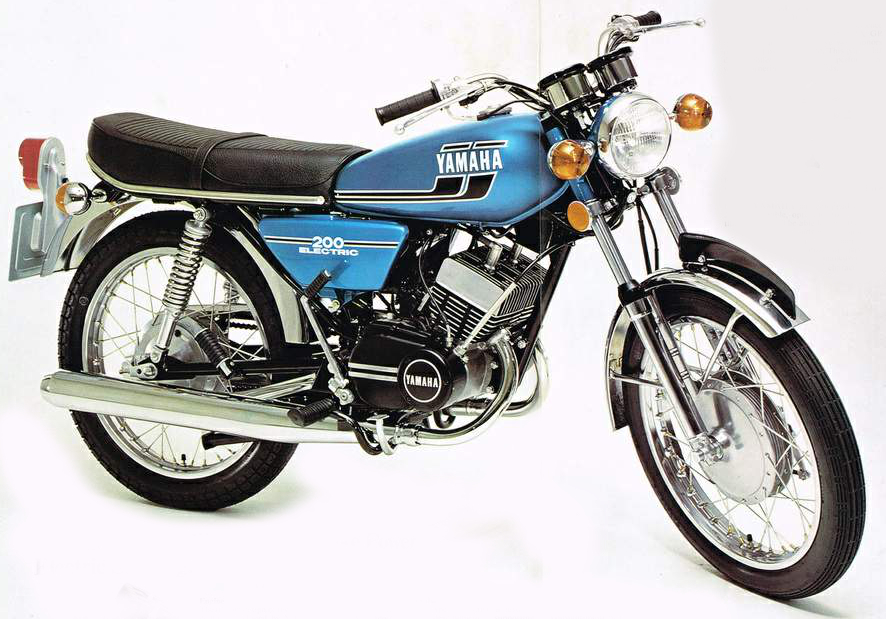 5 Quick Facts About Yamaha RD200
1) Design - Yamaha RD200 features basic design elements like drum brakes, twin rear shocks, and flat seating for two. The headlight is round while the fuel tank measures 11.5-litres and has a plain design. If Yamaha brings back exactly the same design with a modern fuel-injected engine, it could become an instant hit across various countries of the world.
2) Availability - Yamaha RD200 was an exciting option to consider in 1975 and getting the same these days is tougher than imagination. The motorcycle is rare in comparison with the recent options like Yamaha RX100 and the RD350. Most probably, you will find one in an almost dead condition and spending a huge amount to get it ready is the first step of ownership.
3) Performance - Yamaha RD200 is powered by an advanced twin-cylinder, 195cc engine that is good for a maximum power of 22 HP @ 7500 rpm and a peak torque of 21.3 Nm @ 7000 rpm. These output values are better than the present-generation 200cc bikes you can buy in India. Almost 40kg of less weight than the current-generation rival bikes make Yamaha RD200 a great option to own. The bike is known to touch a top speed of around 130-140kph.
4) Pricing Details - In the year 1975, the RD200 was priced at $995 (INR 75,000 approx), which roughly equates to $4,800 (INR 3.50 lakh approx) after adjusting for inflation. The exact price for a model available in 2021 depends on the owner as asking anything between INR 50,000-1,00,000 for the one that needs heavy restoration is possible.
5) Legacy - Yamaha RD350, the bigger variant from the RD series, is still in demand for its performance-centric ride and elegant design. RD200 can be called a compact version of the bigger RD, producing a limited amount of power in comparison, but lowering the overall weight for a similar fun factor.
Yamaha RD200 Infographic
Click on the Infographic to View High-Resolution Image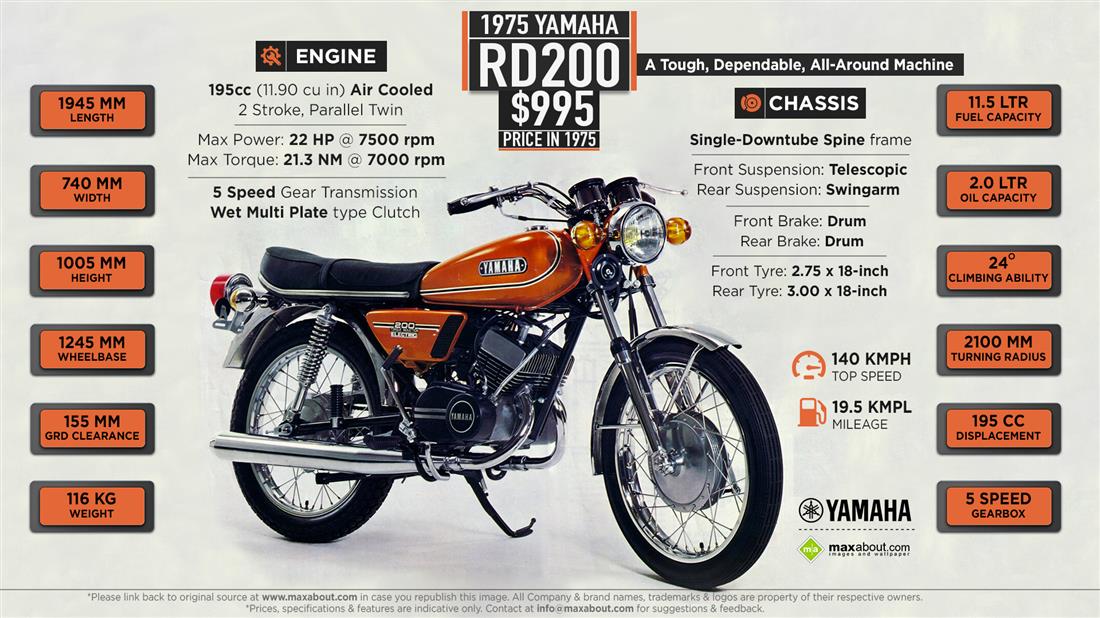 Yamaha RD 200 Specifications
Engine Displacement - 195cc
Engine Type - Parallel Twin, 2 Stroke
Cooling - Air Cooled Engine
No. of Gears - 5 Speed Gearbox
Clutch - Multi Plate Wet
Maximum Power - 22 HP @ 7500 rpm
Maximum Torque - 21.3 Nm @ 7000 rpm
Front Brake - Drum Brake
Rear Brake - Drum Brake
Front Suspension - Telescopic Fork
Rear Suspension - Dual Shock Absorbers
Front Tyre - 2.50 inch x 18 inch
Rear Tyre - 3.00 inch x 18 inch
Wheel Type - Wire spoked wheels
Fuel Tank - 11.5 Litres
Kerb Weight - 116 kg
Ground Clearance - 155 mm
Top Speed - 130-140 kmph
Mileage - 19-22 kmpl (Approx.)