Tata Motors has recently launched the updated model of Nexon EV with a new name, Nexon EV Prime. The new EV is made available at a starting ex-showroom price of Rs 14.99 lakh. This new Nexon EV Prime replaces the existing Nexon EV. However, the new car from the BEV lineup will be powered by the same battery and motor, but it will also have some additional features to make it more advanced.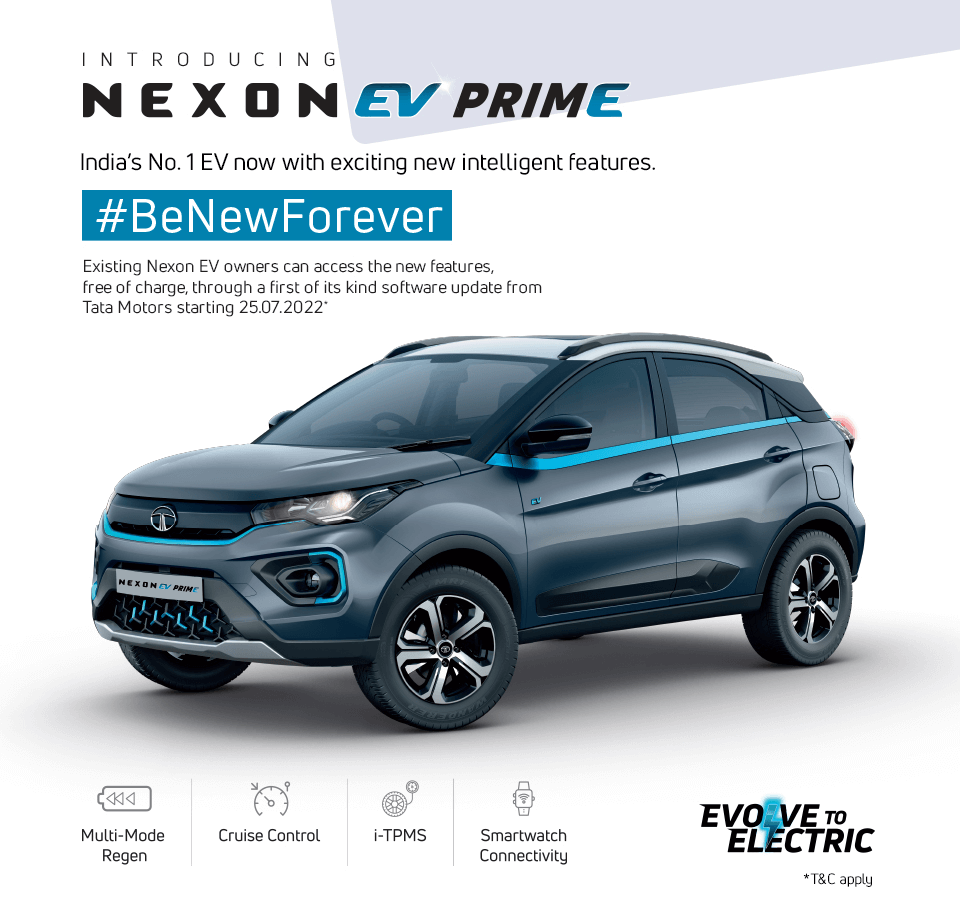 As far as the newly added features are concerned, these are taken from the recently launched Tata Nexon EV Max, and the intriguing thing is that the existing Nexon EV owners may also have the new features through a software update. With the launch of the renamed Nexon EV Prime, its price has also been increased. Its entry-level XM variant is now Rs 45,000 dearer, while the Dark XZ+ variant is pricier by Rs 20,000 as of now.
The inclusion of a multi-mode regeneration function with automatic brake lamp activation makes the 2022 Tata Nexon EV Prime sophisticated. It inevitably switches on the brake lights when revival is active. Regenerative braking has four stages, with 0 turning off the system and 3 offering maximum intrusion. Other new features include cruise control, a tyre pressure monitoring system (TPMS) via a smartphone app, and smartwatch-integrated linked tech.
Existing owners will begin receiving these upgrades on July 25th, completely free of charge. The extra controls and switchgear for regenerative braking and cruise control on current Nexon EVs will be fitted at service centres, albeit installing the additional hardware may be charged.
Nevertheless, Nexon EV users will have to pay for future software upgrades, implying that more are on the way. Tata Motors has said that it will educate its consumers on these new features. Powering the Nexon EV Prime is the same 129bhp electric motor and 30.2kWh battery pack.
Tata Nexon EV Prime Price List
XM - Rs 14.99 lakh
XZ Plus - Rs 16.30 lakh
XZ Plus LUX - Rs 17.30 lakh
#Dark XZ Plus - Rs 16.49 lakh
#Dark XZ Plus LUX - Rs 17.50 lakh