The general perception of EVs is that they are less expensive to operate, if not to own. There are many positive stories on the internet about EV owners racking up miles without burning a hole in their pockets. But, as time has passed, we've learned that there's more to running an EV than that meets the eye.
Doddappa S Nisty, a Tata Nexon EV owner, has shared some important information about his own experience with his EV on Facebook. His car's battery pack appears to have died at 68,000 km, and the Tata service centre has replaced it for free under warranty.
According to Doddappa, the cost of replacing the Nexon EV's battery pack after warranty is Rs. 7 lakhs, based on information provided by the Tata service centre. For the Nexon EV, Tata is providing an 8-year or 1.6 lakh km warranty, whichever comes first. However, the warranty is subject to terms and conditions, and customers must know these rules ahead of time. Doddappa's EB charges would have been around Rs. 71,876 in the last couple of years of his ownership, assuming the standard cost of 1 unit of household electricity is Rs. 7.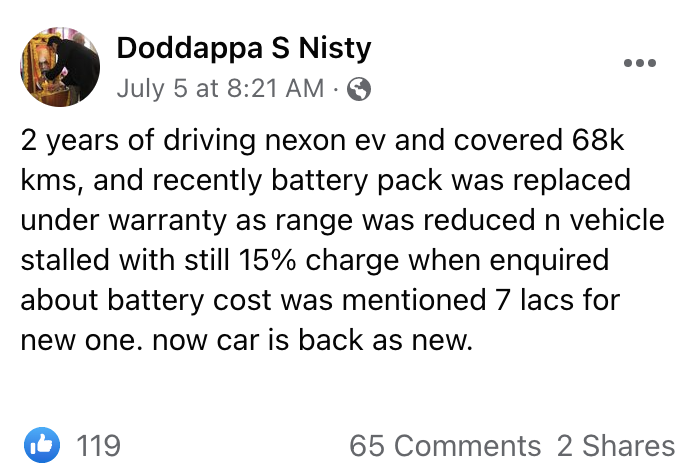 If the battery pack fails after the warranty expires, the running cost of the Tata Nexon EV is Rs. 7,71,876 for 68,000 km. Every km costs Rs. 11.35 in running costs, a petrol car with a high fuel efficiency of 18 km/l running costs Rs. 5.37 per km.
However, Nexon EV owners should not be alarmed. If the battery pack fails at around 68,000 km, after covering 1.36 lakh km, the owners will still receive a new battery pack because the warranty expires at 1.6 lakh km on the odometer. Adding another 68,000 km brings the total to 2.04 lakh km and Nexon EV owners may need to pay Rs. 7 lakhs for a new battery pack after only 2 lakh km.