Yamaha R15 is an Indian legend as it has been in the market since the launch in 2008 and continuously selling good numbers with its ageless design and pure super-sport feel. The version 2.0 arrived in 2011 while the single, long seat on this second version (R15S) came in 2015. Yamaha has been continuously updating the R15 by providing new paint schemes and even timely updates on the motorcycle.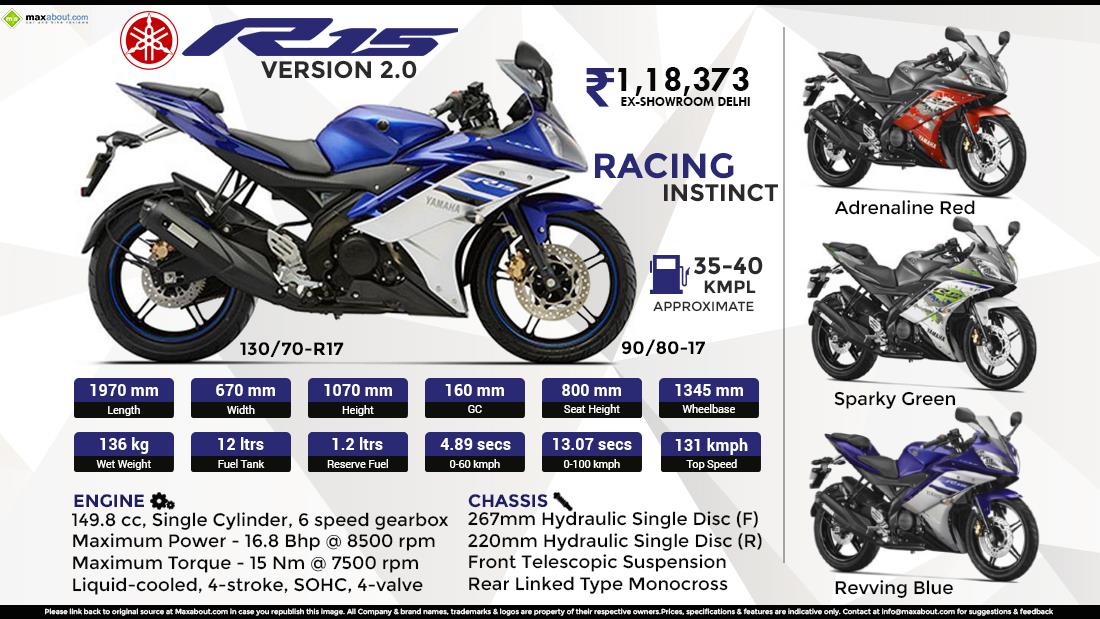 Know More About Yamaha R15 (Stock Model):
http://autos.maxabout.com/bikes/yamaha/r15/yzf-r15-version-2
Mega Photo Gallery: Modified Yamaha R15 (Custom)
Apart from this official world of Yamaha R15, it has a special place among those who believe in unique identity of their motorcycle. Yes, R15 is one of the favorite among auto custom houses as its sharp styling and super-sport body can handle everything from pure Black to Vibrant Rainbow colors. Not just that, the engine has a lot of potential to overcome the company bound borders and the same is true with its twin headlights. Here you can have a look at some insane, heavily customized R15 models to few softly handled, purely wrapped examples of the mighty Yamaha R15.
R15 Turned R6 in Vietnam
Yamaha fans can even make their R15 into an R6, thereby keeping most of the components same while changing the front and side panels for the big bike look. This one is very neatly done.
Kirito Inspired R15
The fictional character Kirito from Sword Art inspired this R15's paint scheme while the exhaust system has also been replaced by a free flow custom unit.
Neon Themed R15
After sunlight, this can be the brightest thing ever seen by the human eye. This neon theme R15 can even turn the most stubborn heads around the town.
R15 Repsol Edition
Although Repsol has no plans for their partnership breakup with Honda, this Repsol themed R15 has been custom painted and given a new exhaust too.
Rumored R15 v3.0
This Matt Black beast has been in the talks as the third version for R15 but being a custom made version only, it can actually inspire the upcoming version with its muscular tank and side fairing.
R15 with Under-Seat Exhaust
This one of its kind R15 has a neat under-seat exhaust which comes out from the taillight unit and uses front twin disc brakes and 4 projectors in its headlight.
R1 styled R15 headlights
This R15 wears the older generation R1 styled headlights with neat DRL's and a beast eye corner bulbs, presenting its Pure Red styling.
Drag Race inspired R15 Duo
These examples are quite interesting as they loose the traditional R15 body style and gain a turbo charger for more focus on performance.
Satin Red / Matt Black R15
The custom finished R15 here looks really amazing. Without even changing a single part of the motorcycle, the theme makes it feel all new in the Indian motorcycle segment.
Matt Black / Matt Chrome Orange R15
The best looking R15 with a wrap, this example has been neatly finished and very finely presented with even the minor details being seen clearly.
Ninja Green R15
Finished in Ninja styling and White inserts, this R15 can put any motorcycle to shame with its extensive styling and appeal.
R15 Gold
Carbon fiber finish and Gold shade makes it one of the best looking 150 cc motorcycles on Earth.
R15 Wraps Done by KNIGHT Auto Customizer