Yamaha RD350 is a prized possession in every manner. The popular 2-stroke bike was once one of the most powerful motorcycles available in the Indian market, carrying a twin-cylinder 347cc engine that was good for 30.5 BHP at 6750 rpm and 32.3 Nm at 6500 rpm.
This helped RD350 claim the winning spot over other popular models like the Royal Enfield Bullet and other Yamaha RX models of its time. Finding one in a brand new condition is a rare possibility and 'The Royal Restorers' can help your wandering soul get some rest with their perfectly-restored RD350 (popularly known as Rajdoot).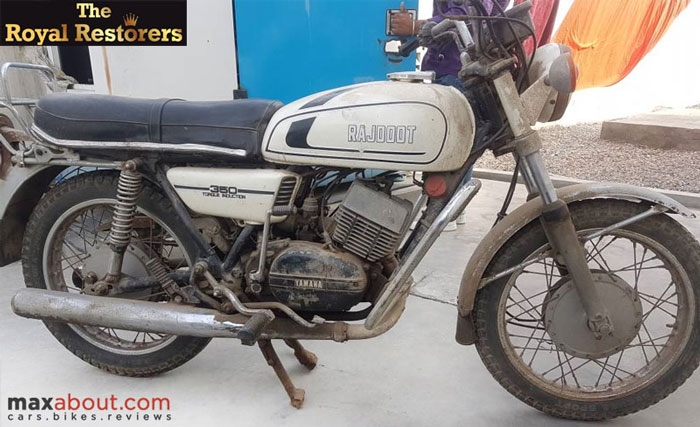 The original bike was lost in the harsh hands of time, carrying rusted parts like bad rims, engine parts, exhaust, and even both fenders. The fuel tank had lost all its charm with excessive rust on all sides.
The paint was even dead and carried no shine at all. It took a lot of effort for the restoration of this Yamaha RD350 as every single part was to be removed and then restored to get the best results. The bike was totally stripped down to bare bones and the work was started at full throttle. The engine was overhauled and had also been tuned a little bit for improved performance.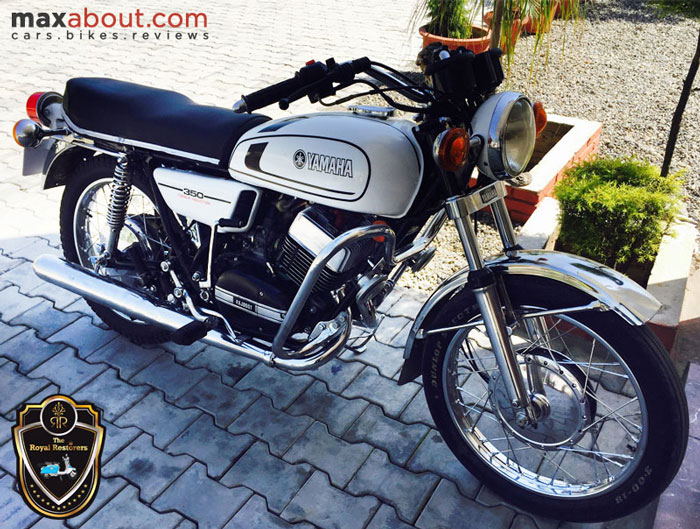 Every component of this typical RD350 has been restored to its original condition. Chrome has been reapplied over all the parts and the fuel tank has been finished in pure white colour. Yamaha moniker has been placed proudly on both sides while the engine is completely finished in black and chrome.
The chrome wheels with all-new tyres look stunning while both the fenders look even better than the ones equipped on present-day bikes. In addition to the white Yamaha RD350 featured here, the modifier has also worked on two more RD350s, which have been finished in red and black. On average, The Royal Restorers need around 45 days to fully restore an RD350. The precision in their work can be seen within every bit of these three motorcycles.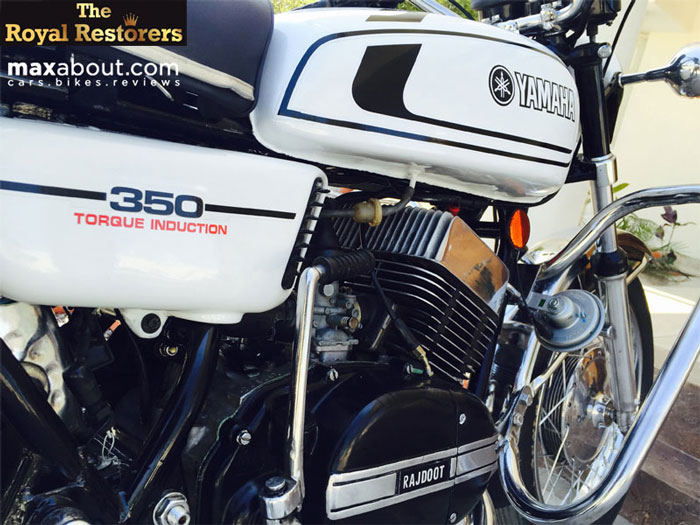 'The Royal Restorers' is owned and operated by Rammy Singh from Jagadhri, Haryana. He is popularly known as Rammy Wanderer. Primarily owning the Royal Armoury that deals in arms and ammunition, Rammy feels alive when he is working on any retro machine that could get a second life through his work.
Born in 1992, the young enthusiast has worked on many vintage scooters, restoring them from scratch and bringing life back to the machines of the 1950s. You can talk to him directly regarding restoration projects and discuss the possible options for your loved vintage machines.
The Royal Restorers
Address: VPO Khera, Behind Khera Power House, Jagadhri (Haryana)
Contact Person: Rammy Singh
Phone Number: +91 78160 00016, +91 73571 31313
Email: [email protected]
Meet Clean White Yamaha RD350 - Restored by Rammy Wanderer