Mansing Desai is now the fastest motorcycle rider of India, achieving 2453.75 km of distance in 24 hours on his prized Triumph Tiger. The motorcycle he rode was bought by selling his land in return as he loves riding more than anything else in the world. In the same way, the most loved thing in his life is also his motorcycle. This feat was achieved after two failed attempts but nothing stopped Mansing Desai from trying the third time and winning over all the odds of Indian roads. He started the ride from Islampur and concluded the same in Sankeshwar, Karnataka. His aim was to ride 2600 km in 24 hours. Still, the achieved distance is also a new record in India. He was cheered by his family and friends throughout the journey. Upon his arrival, a group of riders from different riding groups congratulated Mansing while announcement for his record was made official. [caption id="attachment_167087" align="aligncenter" width="850"]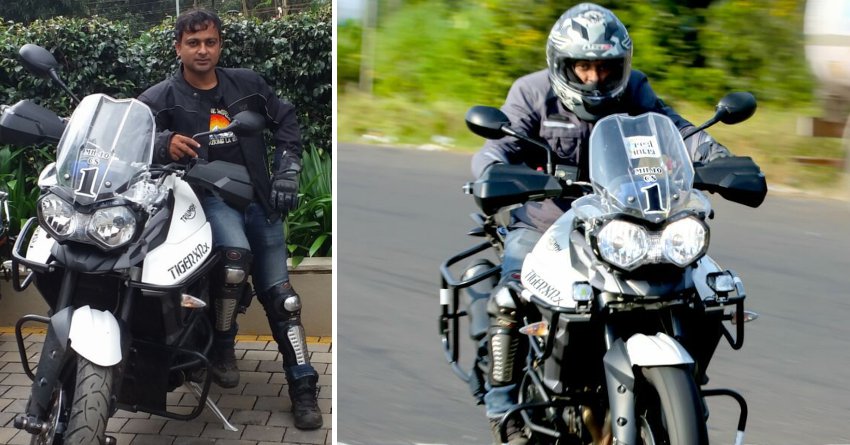 Mansing Desai Creates New Record: Rides 2453.75 kms in 24 hours![/caption] As per Guinness Book of World Records, the longest distance traveled in 24 hours is 3256.5 km. This was achieved by Matthew McKelvey but on a closed track with no traffic and 1297 laps. Mansing Desai, on the other hand, rode through traffic and got mixed riding conditions.
Triumph
Tiger XRx, Mansing's prized possession, is powered by a 800cc, three cylinder engine producing 95 PS at 9250 rpm and 78 Nm at 7950 rpm. The engine comes mated to a 6-speed gearbox. His motorcycle is fitted with a long list of accessories while the stock version looks quite thin in comparison. The modifications include fog lights, fairing protectors and frame for baggage and extra fuel support. The motorcycle is priced at INR 12.13 lakh (ex-showroom) and costs around INR 13.5 lakh on-road. Buyers can opt between Jet Black, Lucerne Blue and Crystal White (Mansing's choice) shade.