Cricketer MS Dhoni is well-known for his love for cars and motorcycle collections. From classic vintage cars to expensive motorcycles, he even has the oldest monikers that have become icons for today. And one such instance is Yamaha's RD350 bike. Dhoni has most recently received the restored RD350. The bike was presented to him by Syed Jadeer, the person who took more than one and a half years to restore this bike.
The video and pictures available were uploaded on Facebook and Instagram by Syed Jadeer himself, and in an interview, he also made things clear that only the Competition Green RD350 model was gifted to MS Dhoni, and the other yellow-painted gold bike was just brought to showcase their artistry to the former Indian cricket team captain. It is also a pleasure for them that the yellow bike now features Dhoni's autograph on its fuel tank and has become a priceless addition to their collection.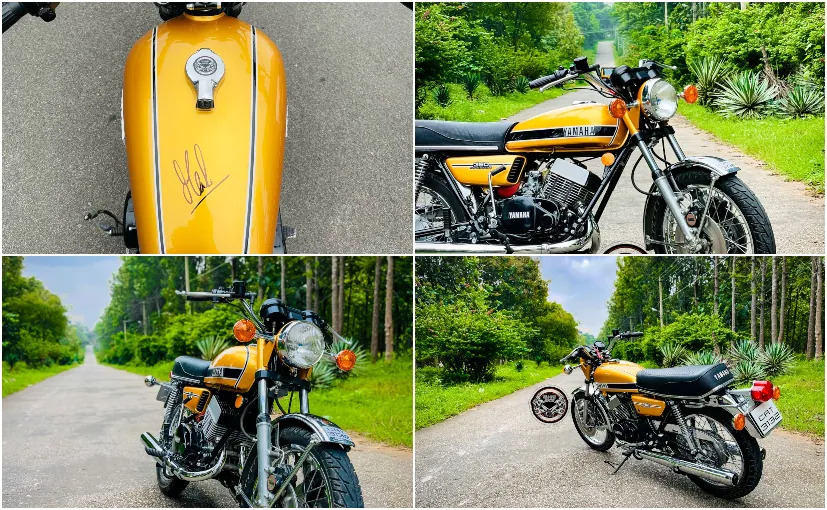 As cited by Syed Jadeer, the motorcycle we see in the pictures is the US-spec RD350 and was completely overhauled from the engine to the paint scheme. All the parts used on this motorcycle were sourced locally.
Yamaha launched the RD350 in India back in 1983, and at that time it was offered only as a performance bike with a 350cc, parallel-twin, two-stroke unit engine. The motorcycle was available in two variants: LT and HT. LT stood for lower torque, and it was capable of max power of 27 bhp, while HT stood for high torque, and it produced 31 bhp of max power.
Yamaha RD350 was the quickest and fastest bike, which had a top speed of 160 kmph in sixth gear. Because of its fast-moving and racing qualities, it was named "Racing Death" in our country. Yamaha didn't offer the RD350 with disc brakes; hence, many people used to opt for aftermarket disc brakes on their RD motorcycles.