Honda CBR250R and KTM RC200 are currently the best options for riders who are willing for uninterrupted performance under a decent price tag. Honda's quarter liter sports tourer is here from a long time but it didn't took a long time for RC 200 to make a name for itself in the Indian market. Here are the good points which won't let you get stuck between both the bikes while buying one out of them.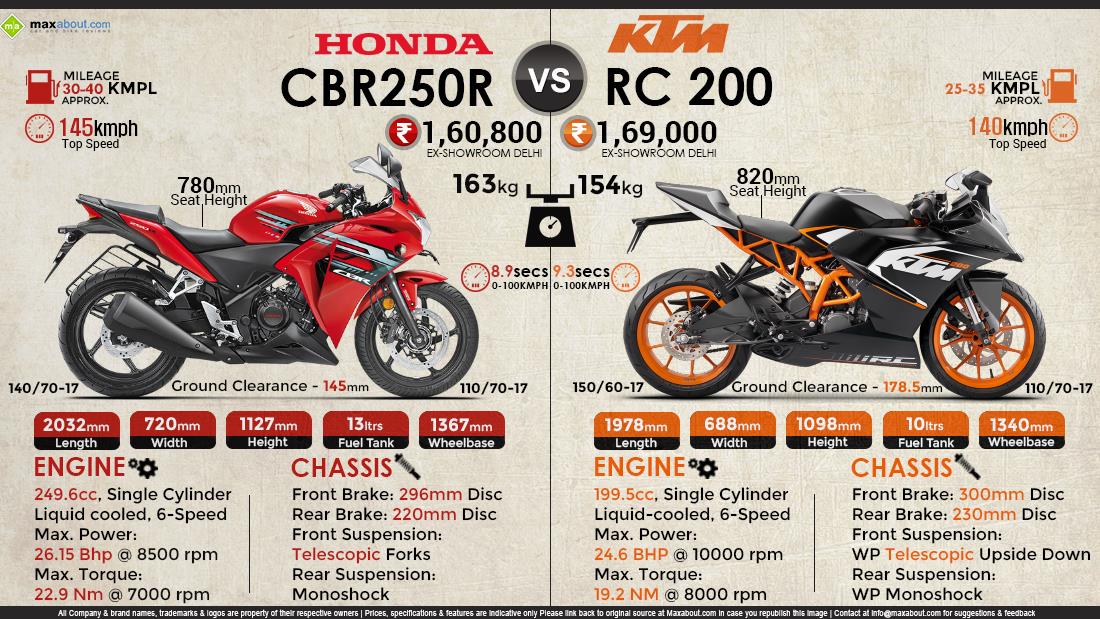 Detailed Comparison & Verdict: Honda CBR250R vs KTM RC 200 Dimensions & Weight CBR250R is a big bike, measuring on the higher side when it comes to length, width and height. It even has longer wheelbase and provides a better seat height of just 780 mm. The KTM RC200 on the other side is narrow and lower in overall height while its seat height is quite high at 820 mm. Short riders may not find it easy touching the ground on the KTM. The CBR250R weighs 163 kg whereas KTM is straight 9 kg lighter at just 154 kg. While being long enough for both, if handling higher weights is difficult for you, KTM may suit you better in this case. Performance KTM may sound like a born performance machine name but here, the case is totally different when compared to the KTM RC 200. The straight road friendly Honda CBR250R is good for 8.90 seconds 0-100 kmph sprint while the KTM RC200 takes 9.30 seconds for the same. Everyday riding won't get much affected with such a minor difference. Key Specs of CBR250R:
Displacement - 249.6 cc
Maximum Power - 26.15 Bhp @ 8500 rpm
Maximum Torque - 22.9 Nm @ 7000 rpm
No. of Cylinders - 1
No. of Gears - 6
Seat Height - 780 mm
Ground Clearance - 145 mm
Kerb/Wet Weight - 163 kg
Fuel Tank Capacity - 13 litres
Top Speed - 145 kmph
Mileage - 30-40 kmpl
Key Specs of KTM RC 200:
Displacement - 199.5 cc
Maximum Power - 24.65 Bhp @ 10000 rpm
Maximum Torque - 19.2 Nm @ 8000 rpm
No. of Cylinders - 1
No. of Gears - 6
Seat Height - 820 mm
Ground Clearance - 178.5 mm
Kerb/Wet Weight - 154 kg
Fuel Tank Capacity - 10 litres
Top Speed - 140 kmph
Mileage - 25-35 kmpl
The top speed of CBR250R is 5 kmph more than the 140 kmph limit for the RC 200. The thing which benefits the KTM RC200 is its sporty riding position, lighter weight and a sport oriented frame under its body. It helps the bike while cornering hard on the track, leaving the CBR250R behind in this case.
Design Both the bikes are from two different worlds, leading into much confusion when choosing a bike based on its design. The track focused RC 200 looks mean, sharp, and more of the sport bike category from its looks. The other way, Honda CBR250R is sporty while its tourer friendly nature can be easily guessed from thick seats, higher handlebar and a relaxed design. The single headlight and fairing design has been picked from the VFR1200F while KTM RC 200 resembles the elder 390 series RC.
Riding Styles If you are more like a touring guy and prefer riding long hours at the weekend, KTM is strictly not a good option for the same. Even if you ride quite good number of kilometers everyday, the lean forward position of the KTM can be tiring and negative on your body. Do prefer a KTM RC200 if you love track sprints or you can ride the bike without bumps near your location. The CBR250R is an all-rounder here. You can ride it all day as its upright riding position is not so tiring and the bike feels much stable on the highway with its high body weight. CBR250R is even more comfortable for the pillion as there is nothing to hold on the RC 200's rear seat. Equipment & Pricing The RC200 comes with premium equipment like front USD forks and dual projector headlights while the provision of optional ABS on the CBR250R makes them special ones among others. You can choose the priority of features and select the one which suits you on more parameters than others. The CBR250R currently retails for INR 1,60,585 for the non-ABS and INR 1,89,592 for dual channel ABS version. The KTM RC200 comes with a single variant, priced at INR 1,69,000. All prices are ex-showroom Delhi. Verdict Honda CBR250R would be an ideal choice if relaxed riding, powerful highway cruising and decent mileage is your first preference. Do consider buying a RC200 if you love driving at high speeds without compromising on the stability of the motorcycle at the corners. If you have a dream of owning a proper track focused bike, RC200 is a better option while CBR250R works better as an everyday bike. Complete Specifications & Review: CBR250R: http://autos.maxabout.com/bikes/honda/cbr250r/cbr250r-std RC 200: http://autos.maxabout.com/bikes/ktm/superbike/rc-200