Ssangyong Cars
Featured Ssangyong Cars
Most Popular Cars by Ssangyong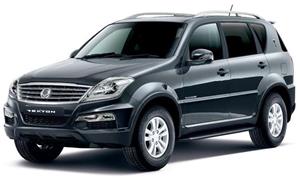 Ssangyong Rexton Diesel RX7
2823 views this week
₹ 24,84,000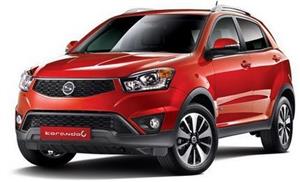 Ssangyong Korando C
948 views this week
₹ 15,00,000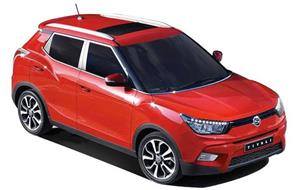 Ssangyong Tivoli SUV
747 views this week
₹ 13,00,000
All Cars By Ssangyong
Categorized Ssangyong Cars by Status
Ssangyong Korando
948 views this week
₹ 15,00,000
Ssangyong Rodius
236 views this week
₹ 24,00,000
Ssangyong Tivoli
747 views this week
₹ 13,00,000
Ssangyong Actyon
Ssangyong C200
Ssangyong Kyron
Ssangyong Cars by Body Type
Filter Ssangyong Cars by Body Type
Latest Ssangyong News
Recently Added News
INR 9.50 Lakh Cash Discount on Ssangyong Rexton RX7
Wednesday, 12 September 2018 0:00 AM
2017 SsangYong Rexton (Mahindra XUV700) Unveiled
Monday, 27 March 2017 0:00 AM
SsangYong SIV-2 Midsize SUV Concept Displayed @ 2016 Geneva Motor Show
Monday, 07 March 2016 0:00 AM
About Ssangyong
Know more about Ssangyong
Toll Free Roadside Assistance Number:
1800-102-7006
Established in 1954, SsangYong Motor Company is a South Korean automobile manufacturer owned by Mahindra & Mahindra Limited of India.It is a subsidiary of Indian multinational Mahindra & Mahindra A 70% share of SsangYong was acquired by Mahindra & Mahindra Limited in February 2011, after being named the preferred bidder in 2010 to acquire the bankruptcy-protected company.
Mahindra's attainment was accepted by South Korea's Free Trade Commission. Mahindra & Mahindra Limited gained 70% share in the Korean automobile manufacturer after it was chosen to bid for the bankruptcy-protected firm in 2010, on February 2011.
SsangYong markets a range of automobiles from passenger cars to commercial vehicles internationally. In 2012, SsangYong cars were introduced in India with Rexton as its first model in the Domestic market.
SsangYong motors, a Korean car maker is also one of the largest manufacturers of SUVs and Crossovers in South Korea. Now integrated with the Mahindra Group, Ssangyong Motors made its debut in the country in 2012. With the presence in over 90 countries, Ssangyong Motors has made a name for itself and is a part of Mahindra, has now entered the country.
Related Resources
You may like to view
Questions and Answers
Be the first one to ask a question about Ssangyong
Ask a Question