TVS Wego 110
TVS Wego 110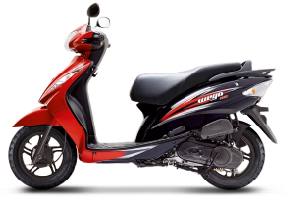 Popularity
This week: 435 views
All time: 7,63,742 views
Ex-Showroom Price
Rs. 46,400
* Delhi. May vary.
Also Consider
Vehicles with similar features
VEHICLE SUMMARY

Name:
Wego 110
Shades:
Cappuccino brown, Golden beige, Silver, Black and Dark blue
Kerb Weight:
104.00 kg
Type:
Scooterette

PERFORMANCE AND MILEAGE

Top Speed:
85 kmph
Mileage in City:
45.00 kmpl
Mileage on Highway:
62.00 kmpl
0 to 60:
11.00 secs

VERDICT

FOR:
Looks
Comfortable
AGAINST:
Build quality

OUR RATINGS

Appearance:
Comfort:
Features:
Performance:
Value for money:

ENGINE SPECIFICATIONS

Displacement:
109.7 cc
Engine:
109.7cc, CVT-i Single Cylinder
Maximum Power:
8 Bhp @ 7500 rpm
Maximum Torque:
8 Nm @ 5500 rpm
Gears:
Automatic
No. of Cylinder:
1
Chassis Type:
High Rigidity Under Bone Type
Cooling Type:
Air Cooling

DIMENSIONS & CAPACITIES

Length:
1834.00 mm
Width:
640.00 mm
Height:
1115.00 mm
Ground Clearance:
150.00 mm
Wheelbase:
1275.00 mm
Fuel Tank:
5.00 litres
Instrument Cluster

Fuel Gauge:
Analogue
Tachometer:
None
Speedometer:
Analogue
Trip Meter:
None
Low Fuel Indicator:
Low Oil Indicator:
Low Battery Indicator:
High Oil Temp. Indicator:
Choked Air Filter Indicator:

OTHER SPECIFICATIONS

Headlamp:
12V, 35W/35W
Alloys:
Battery Type:
Maintenance Free
Battery Voltage:
12V
Capacity:
5Ah
Wheel Type:
Alloys
Tyre Size:
90/90 12 - 90/90 12
Tubeless Tyres:

Brakes & Suspension

Suspension (Front):
Telescopic
Suspension (Rear):
Hydraulic Damper
Brakes (Front):
130mm Drum
Brakes (Rear):
130mm Drum

COMFORT AND CONVENIENCE

Stand Alarm:
Self Start:
Passenger Footrest:
Passenger Backrest:
Step-up Seat:
Pass-light:
TVS Wego 110 Review
One of the best scooters by TVS
Tuesday, October 22, 2013
Design and Style
TVS are not newcomers to the gearless scooter market, and are one of the most well-known brands in the 50cc-100cc range. Launched back in June 2009 in conjunction with the Jive model, TVS signalled a new direction with the Wego. In the Wego, the manufacturer's design team has endeavoured to create a vehicle with a mature style that is nevertheless family friendly. While the manufacturer kept to more conservative design guides when building the Duro and Activa, the lines and curves of the Wego's all-metal body are edgy and bold. Its sharp, eye-catching indicators resemble those of TVS's Scooty streak, while its white colour is clearly inspired by the RTR 180. The attention to detail is good: the air vents behind the seat have a futuristic shape and metallic grille, and the rear grab-rail has been well designed. The vehicle's tail lamps comprise three semi-circular optical tubes, reminiscent of the tubes found in BMW corona rings and brake lights. The build also suggests good durability: the rear-seat is well stitched, and an all-metal body will withstand denting and knocks more successfully than the fiberglass frame of the Scooty. Its headlamp is a clear halogen multi-reflector that provides excellent illumination in dark surroundings.
Instrument Console
The bike's console is clear and well designed. Its triangular cluster of instruments features the speedometer (with an economy range indicator for increased fuel efficiency) and fuel gauge dials, as well as high beam and side-signalling tell-tales.
Engine and Gearbox
The Wego runs on a single cylinder 109.7cc engine with a maximum power of 8.1 Bhp at 7500 rpm and a top torque of 8 Nm at 5500 rpm. This all new, all-aluminium engine has been designed for minimum noise and minimum friction – the same engine that appears on the Wego's sibling, the Jive. The quietness of the engine certainly makes an impression – compared to other scooterettes, it seems almost quiet. While not the most powerful of engines, it is a highly refined machine that gives a feel akin to riding an electric scooter.
Acceleration and Top Speed
The Wego has a good level of pickup, and acceleration is decent. Even when accelerating at full throttle the bike runs quietly and smoothly. Riders will get good speeds from the bike, but the claimed top speed of 78kmph is not correct; you're more likely to max out at 68-75kmph.
Mileage
The Wego offers a low to average mileage of 40km per litre, which is respectable for a bike of this kind but disappointing in comparison to the Honda Activa's 50kmpl.
Comfort While Driving
Despite a few issues with the front suspension, the bike feels generally comfortable for one or two riders. The seat, now higher and wider, appears completely flat but is in fact subtly curved for a better ergonomic fit, and feels soft yet firm. Its upright position is comfortable even on long rides. The newly designed front board allows greater legroom, a welcome addition. It also includes a passenger footrest, but no passenger backrest.
Safety Features
The bike includes a rear grab rail for the pillion, as well as an LED taillight to provide greater illumination during night time. The bike's wide tires provide greater stability on the road. The bike doesn't include a stand alarm.
Storage Space
One of the Wego's interesting features is an integrated storage compartment at the front of the bike, part of the bike's standard package rather an additional bolt-on accessory.
Suspension and Brakes
On less forgiving surfaces the bike's suspension is put to the test. In addition to the 12-inch wheels fitted front and back, the bike's front also features two telescopic forks. There is a rear-fitted gas-charged shock absorber which readily absorbs shock, but it is let down by the lesser capability of the front's suspension, which has a tendency to pass on shocks to the bike's handlebars.
The bike's 130mm diameter brakes are capable and smooth. On this bike, two-wheel braking is solid and feels quite secure and balanced. Even on more difficult surfaces, such as mud, the front brakes feel safe and handle predictably; meaning that riders will feel confident pushing the bike to higher speeds.
Ride and Handling
TVS emphasizes the Wego's 'body balance technology', which is designed to enhance the bike's maneuverability, making it easy to steer through traffic and navigate roads quickly. Thanks to the ample wheels, higher than average ground-clearance, and well-balanced distribution of weight, the bike's handling is very good. The bike is undoubtedly at its best on smooth road surfaces, and feels solid, smooth and nimble. Leans require only a very minor movement of the hips, and the lean angles are very good, although the bike's center stand is somewhat weighted on left leans.
Tyre Size
The Wego features generously sized 12-inch alloy wheels, both to the front and back of the bike. Fitted with the newly redesigned TVS tires of 90/90 12mm, the bike's wheels are of a good standard. The quality of the rubber is high, and compares favourably with the Scooty, although it is perhaps not quite as good as that of the Honda Activa.
Shades
TVS Wego is available in silver, black, dark blue, beige and cappuccino.
Accessories
The Wego can be further enhanced by a range of purchased accessories, including a front guard, seat cover, ladies pillion with hook, helmet lock, handle grip and rear seat cover.
Distinctive Features
Some nice additional touches are included as standard with the bike, including a mobile charging socket beneath the seat compartment, and a smart stand lever which is depressed to release the center stand.
Reasons to Buy, Value for Money and Verdict
TVS Wego is a well-designed and sharply designed vehicle that provides a smooth, quiet ride and is furnished with some excellent features. The TVS Wego is priced slightly higher than competitor models by roughly 1000Rs, but its additional features will justify the higher price tag for most buyers. Despite under-performing front telescopic suspension, which may cause issues on less forgiving road surfaces, the TVS Wego feels nimble, agile and responsive, and is an excellent addition to the market.