Honda Launches 2013 Activa
Honda Motorcycle & Scooter India (HMSI) has launched the 2013 model of Honda Activa. The all new Honda Activa RS will replace the existing scooter in the market. This new scooter is developed with Honda Eco Technology (HET). The HET has lead to improved combustion, reduced friction and a boost in the fuel efficiency by 11 percent. The new Activa RS is powered by 109cc engine that outputs 8bhp of power with 8.74 Nm of torque. It is mated to v-matic four-speed transmission.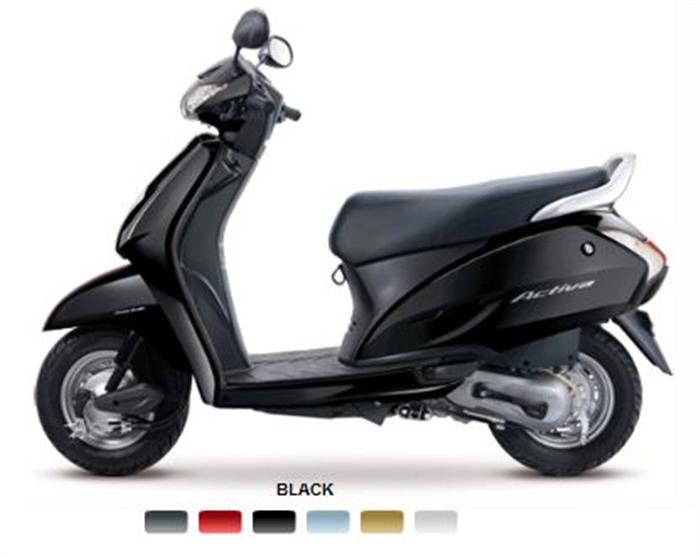 The body of the scooter is sturdy and solid and it weighs at 110kg making the Activa heavier than its competitors in the same class. The gearless scooter has a length of 1761.00 mm, a width of 710.00 mm and a height of 1147.00 mm as its dimensions and a larger wheelbase of 1238.00 mm for a smooth and stable ride. Front and back the scooter tyres are 90/100 x 10" metal alloy wheels. The top speed claimed by the company is 80 kmph and offers a mileage of 45.00 kmpl in cities and 60.00 kmpl on highways. It comes loaded with the fuel tank capacity of 5.30 litres.
As far as comfort and convenience is concerned, Honda Activa is regarded as one of the most comfortable scooters in the market to drive. The upright seat is comfortable and wide and the pillion is equally expansive with a well-placed footrest and it comprises tuff-up tubes, adequate storage space along with a good seat arrangement.
The front tyres feature a bottom link suspension with spring-loaded hydraulic dampers whereas the rear tyres have unit link with spring-loaded hydraulic dampers. Honda has added a new color "wild purple" to the four existing colors – Black, Red, Grey and Pearl White. The 2013 Honda Activa RS is priced at INR 47,188 (ex-showroom Delhi).
Updated: 03-07-2014 10:05:32
Deals of the Day
Best Offers of the Day on Online Stores
Item
Seller
Price
Digitru 3D Car Mat Honda Amaze (Black)

₹ 3,599

58 % off

₹ 1,498

View
Apple iPhone 4s - 32 GB

₹ 48,500

69 % off

₹ 14,990

View
Auto Hub 3G Car Mat Honda Amaze (Brown)

₹ 4,999

55 % off

₹ 2,250

View
Flomaster- Magnetic Sun Shade-Honda Amaze, black

₹ 1,999

55 % off

₹ 899

View
Apple iPhone 4S 8 GB (Black)
PaytmEffective-IN

₹ 39,999

69 % off

₹ 12,325

View
Similar News
Recently Added News
Related FAQs
Recently Added FAQs